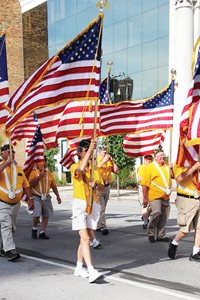 It seems like such a simple question, but as we quickly discovered, the answer might require some professional help. ALA National Headquarters consulted with our professional parliamentarian, Chris Dickey, for guidance.

The following is an account of the process and resources we utilized to determine if, when, and in what form our 2021 National Convention would be held. By sharing our process, we hope to answer questions that need to be answered in order to determine what your department convention might look like this year.
Look at your department bylaws to see how the time and place of your convention is determined. Is your meeting tied to The American Legion? At the national level, the ALA National Convention "shall be held annually at the same time and place as the convention of The American Legion." There's no flexibility there. However, if your Constitution & Bylaws have a clause that begins with "or," you might have some flexibility.
Look at your state's laws on electronic nonprofit membership meetings. These are different from board of directors meetings. The American Legion Auxiliary national organization is incorporated in Indiana, and its state laws regarding virtual membership meetings state: "If provided in the articles of incorporation or bylaws, a member of a corporation may participate in an annual or a regular meeting of the members by or through the use of any means of communication by which all members participating may simultaneously hear each other during the meeting. A member of a corporation participating in a meeting by this means is considered to be present in person at the meeting." [IC 23-17-10-1(g) emphasis added] Since there is no provision in the ALA national bylaws allowing for electronic membership meetings, we cannot hold a virtual National Convention.
Has your state government issued an emergency order that would allow electronic membership meetings even if an organization's bylaws do not provide for them? Some state governments have done so, although Indiana has not.
If you can meet only in person, what should you consider?

What are the local restrictions on gathering sizes?
Will members be staying in a hotel?
Are there restrictions concerning amenities such as food service or elevator capacity?

Quorum. Attendance might be down; will you be able to achieve a quorum for voting? Whether an electronic meeting or an in-person meeting, you must meet quorum. Look in your bylaws for your convention quorum.
If we cannot have a convention, can we change our officers? Look in your bylaws for the wording on the term lengths. For example, at the national level, our national officers serve "until their successors are elected," and elections occur during National Convention. In addition, does the election take place at the convention? If it is tied to your convention, then one option might be that the officers choose to resign (just not all at once!). Then you would look in your bylaws for the process of filling vacancies. Many department bylaws involve the department executive committee in the process of filling vacancies.
Can your Department Executive Committee meet electronically? Consult your state nonprofit statutes regarding board of directors meetings. Remember: These are different from statutes regarding membership meetings. In Indiana, our state laws allow boards to meet if all board members can simultaneously hear each other if it is not prohibited in the bylaws.
If you're confused, you're not alone. Membership organizations nationwide are trying to answer these same questions. National Headquarters strongly recommends that departments consult a professional registered parliamentarian or an attorney to assist in interpreting department bylaws on these complex issues. Visit the National Association of Parliamentarians website at
www.parliamentarians.org
to find a professional in your area.