This July, ALA Girls Nation will celebrate its 75th session!

Over the years, ALA Girls Nation has become known as a premiere youth program. But imagine going to the first ALA Girls State in your area and the first ALA Girls Nation. Talk about not knowing what to expect!

Kathryn LeBrasseur was part of that first ALA Girls Nation and attended the first ALA Minnesota Girls State in 1947. She had the honor of being elected the first Minnesota Girls State governor.

The experience is one LeBrasseur hasn't forgotten — an experience that had a role in shaping her future as she graduated from the University of Minnesota and had an accomplished teaching career for 27 years, followed by a career as director of Douglas County Senior Citizens. LeBrasseur is involved in her community and her Auxiliary Unit 87 in Alexandria, Minn.

Tell us about your experience at ALA Girls State.
The week was tremendous, a new experience for all of us. I think for those of us from the rural areas, it was an eye-opening opportunity to mix with and be exposed to the girls from the metro area. There was a world of difference in those days between rural and metro.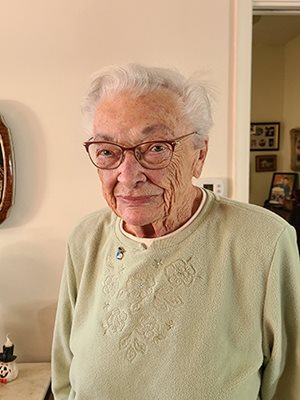 Were you interested in government before attending?
I never had a desire to run for public office. I always wanted to be involved with what's going on with local government. We were anxious to learn how they did things in other schools and other towns, and certainly developed tremendous interest in government, how it functions, and elections.

Did attending this event give you advantages in life?
Many. It broadened my horizons so greatly. It did a great deal to develop my feelings of patriotism. Those things are still very much with me.

What do you think was the most exciting thing about the program?
I think it was making friends and developing a feel for government. We all came from different communities, so it was interesting getting acquainted with the other girls. It's still true today: Most of them will make friendships for life.

What advice would you give girls today considering attending ALA Girls State?
You're being offered an opportunity to be with outstanding girls from all over the state. Some are interested in technology, some in music, some in drama, some in journalism. You will be exposed and work with these girls of all various backgrounds, and they will enrich your life by sharing ideas. You will develop friendships that will last for your lifetime. The knowledge you develop will enhance your feelings toward government and develop solid ideas that will enhance your life forever.


You can follow along with ALA Girls Nation on Facebook and Instagram! The 2022 session is July 23-30.


At a glance:
ALA Girls Nation
First session: 1947
Location: Washington, D.C.
Close to 7,400 young women have attended in the last 75 years. Only one year missed: 2020 (due to COVID-19 pandemic)


Did you attend ALA Girls State or ALA Girls Nation or know of an amazing woman who did? We'd love to hear about it! Let us know by emailing ALAMagazine@ALAforVeterans.org.