This year's ALA Girls State programs go virtual
ALA Girls State staff members across the country were preparing to have their programs last spring when the unthinkable happened – COVID-19 led to schools closing. ALA units had just begun or were planning to select girls to attend their state's ALAGS program. With schools closed, many units were unable to recruit, interview, and select representatives.
As cancellations began happening, not only in The American Legion Family, but in schools, sports, etc., disappointment was felt by volunteers with the realization that ALA Girls State may be the next event to be canceled.
American Legion Auxiliary National Headquarters canceled ALA Girls Nation but left the decision up to each state program on how they wished to proceed. As the news came in that in-person sessions would not be possible, programs gathered their leadership to discuss their options. Is it possible to go on? What would a virtual program look like? Would it still be beneficial to the attendees? And the list of questions went on.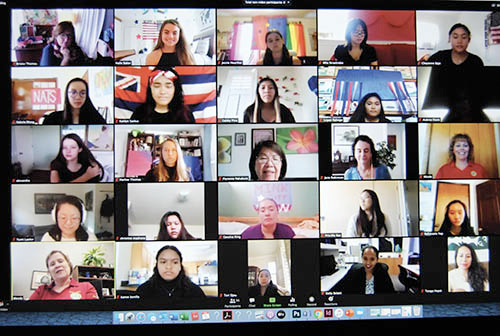 Ten programs decided to venture into this unknown territory and deliver a variation of the "normal" ALA Girls State program virtually. In a short period of time, technology had to be researched, and programming had to be altered to fit a virtual format.
Reasons varied for why programs decided to continue. ALA Empire Girls State in New York wanted to preserve the continuity and integrity of the program. They also feared not having a program would take away the opportunity for some students to apply for the Samsung scholarship or to list ALA Girls State on college and military academy applications.
The first program to test the waters was ALA Volunteer Girls State in Tennessee. ALAVGS condensed the program to two days with speakers and covered two to three topics each day.
"We had the capability to do this and felt it was worthwhile, even with all of the extra work, to give these girls a live session rather than canceling," said Julia Wells, director of ALA Volunteer Girls State.
ALA Jersey Girls State in New Jersey knew they wanted to offer an alternative. The staff investigated how many volunteers were needed and researched online platforms.
"We did not want the delegates to miss the opportunity to be involved in the program in some way. Just giving them a certificate for being selected was not sufficient enough for us," said Laurel Matthews, director of ALA Jersey Girls State. "We were bound and determined to give them as much of a full experience as possible. The idea was to learn the process of the government to help them become better citizens."
California opted to do a one-day program in the form of a town hall that included a webinar and virtual meeting. "We wanted to provide exposure to ALA Girls State and the American Legion Auxiliary, as well as facilitate networking and mentoring opportunities for the delegates," said Kimberly MacKinney, director of ALA California Girls State.
Despite the obstacles of not having in-person sessions, there were benefits to the virtual format. Just like everything else during these times of COVID-19, there were downturns, but benefits also were discovered in trying something new while adapting to the current climate.
Some of the advantages of having a virtual program included the ability to have staff involved who normally wouldn't have been able, minimal expense, flexibility, and having speakers be able to record a video message if they were not able to join live.
The virtual format was a benefit for speakers in Rhode Island.
"Without the constraints of physical settings and work schedules, we were able to interact with leaders who seemed more accessible to us, speaking from their house or their office," said Lorraine Boucher, director of Rhode Island's ALA Little Rhody Girls State.
It also allowed citizens to have more time and flexibility to work on materials. "I liked doing the program virtually because I could do the course material on my time," said Julia Ritchie, ALA Texas Bluebonnet Girls State citizen.
The disadvantages included not being able to host a weeklong program, lack of camaraderie, and communication issues. ALA Hawai'i Girls State leaders felt the online sessions were not as personal as the usual in-person program but still found ways to connect.
ALA Jersey Girls State didn't see many disadvantages and was impressed with how the participants overcame obstacles. "The only real disadvantage was the delegates not being able to meet in person," said Matthews. "A surprising benefit was that the delegates seemed to 'step up' more to be able to get to know the other delegates."
ALA Girls State is often referred to as a once-in-a-lifetime and memorable experience. Many had concerns it wouldn't be the same online. Although the girls didn't have a normal experience, it was still an opportunity. ALA Girls State allowed an important part of their high school junior year to continue. This is why North Carolina thought it was important to go virtual.
"We felt we could do something virtually for these students who wanted to participate in our program, since a majority of their spring semester was disrupted," said Emily Clayton, North Carolina's ALA Tar Heel Girls State director.
Friendships were still formed despite having a computer screen between them.
"ALA Girls State was not just about expanding my knowledge of government, but also about meeting girls from all over Texas. Thankfully, with technology, my city was able to share social media accounts with each other to stay in touch," said Emma Neidig, ALA Texas Bluebonnet Girls State citizen. "The amazing girls I met made this experience worthwhile."
"I truly believe I created bonds with many girls in my city. We got to learn about each other's passions and goals, and doing so made connections that are unique," said Sophia Wilson, ALA Texas Bluebonnet Girls State citizen. "And I know the friendships I made will forever stick with me."
It may have been disappointing to not have an in-person ALA Girls State and ALA Girls Nation this year, but these 10 programs exhibited how they can be resilient and still present a meaningful experience remotely.
By Jennifer Donovan, Staff Writer
Congratulations class of 2020!
Congratulations, 2020 graduates! Your senior year and graduation were unlike any other.
The American Legion Auxiliary recognizes your hard work and is honoring ALA Girls State alumnae who graduated in 2020 with a special video on the ALA National Headquarters Facebook page (@ ALAforVeterans). Just click on videos to find it.
This article was originally published in the November 2020 Auxiliary magazine.