A cultural divide has long affected the city of Salamanca, N.Y., which is located on the Seneca Nation of Indians Allegany Territory.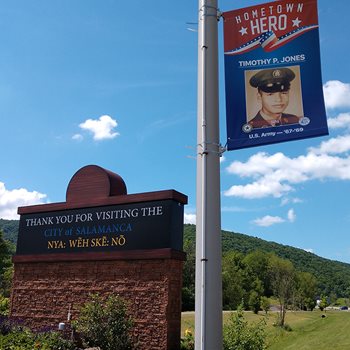 "We are a blended community, both native and non-native. As a community, we have struggled to find positive meaning and messaging amongst our residents," said Sandra Brundage, City of Salamanca Youth Bureau Director/Grant Administration.

To bridge the gap, members of the community and the local American Legion Auxiliary unit sought to honor veterans through the purchasing of Hometown Heroes banners. The banners would be available for citizens to purchase to feature their loved ones and placed throughout the downtown area for residents to view.

Members of Auxiliary Unit 535 applied for a Mission in Action grant from the American Legion Auxiliary Foundation to offset the cost of the banners. With the promise to use Auxiliary branding on each banner, they were granted $4,000 to cover a portion of each banner sold – with the goal of selling 83 banners.

A year and a half later, they vastly surpassed their goal – purchasing over 350 banners to honor local heroes.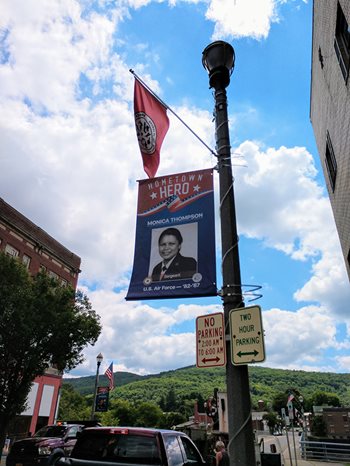 "Veterans from all conflicts have been represented," Sandra said. "We have veterans who are still missing in action, some with Bronze Stars, and some with Purple Hearts all on display. The Seneca Nation of Indians has 17 veterans represented."

Many participants were brought to tears when they saw their loved ones be honored in this way. In addition to celebrating veterans, the project brought forth the generosity of the community. The banners were hung by an entirely volunteer labor force, including elected officials, school personnel, and the Auxiliary members.

"The banners personify Salamanca Pride — just another way to show how proud we are of our little town," said Michael Smith, Mayor of the City of Salamanca.

News of the project reached a large audience as well, including social media posts that were seen by over 11,500 people on Facebook, which served to heighten the enthusiasm of local residents and participants.

"This project has been unifying, validating to our veterans, and has brought a sense of pride back to our community," Sandra said.

"Thank you so much for funding this project – it has been such a blessing to our city."

If you would like to apply for a Mission in Action grant from the American Legion Auxiliary Foundation to benefit your community and brand your Auxiliary unit projects, you can get started today at www.ALAFoundation.org/grants.