Through raising money for a flag pole at a veterans memorial, Junior member Sydney Borntrager demonstrated how a simple act can show respect and appreciation for the flag, veterans, and her community.
Borntrager, of Unit 373 in Minnesota, attended a city council meeting and learned the council wanted to create a veteran memorial to support and remember all veterans around the Trimont area. At the meeting, Borntrager asked the council if there was anything she could help out with for the project and the members said they would like her to raise money for the Minnesota flag pole.
"My mom and I started by going around to people my mom and dad knew around town," she said. "After doing that for a while, we made flyers and asked local businesses if we could hang them in their building so other people would know. We also asked them if they wanted to donate as well."
Looking back, she said she wasn't expecting many donations, but was sure she could hit her goal of $3,000 from Trimont and its neighboring towns. And she did.
Borntrager with a committee member when she presented the council with the donated funds.
When she presented the Trimont Area Veterans Tribute Committee with $3,795 in donations to purchase the flag pole, she received a very positive, grateful response.
"They were very surprised that I made as much as I did, but they knew I would not stop until I got to my goal," she said.
She was honored with a stone plaque that was engraved with her name on it for raising the money for the flag pole.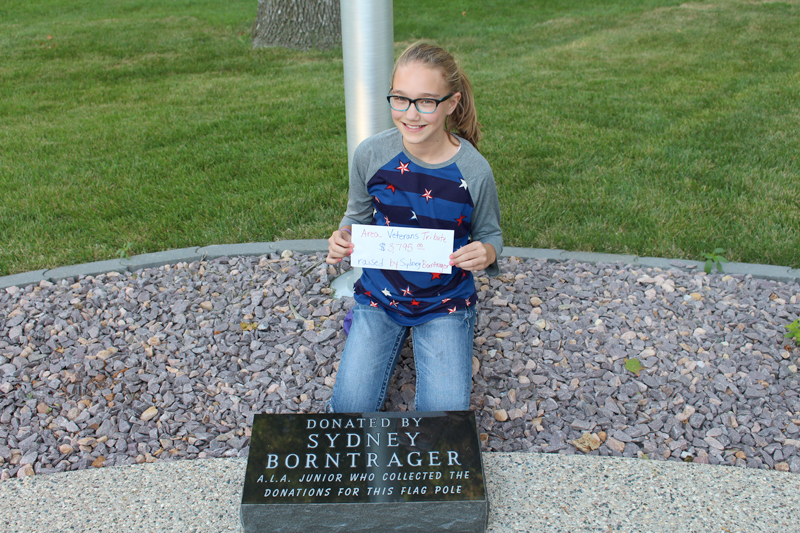 Sydney Borntrager with the stone dedicated in her name for raising money for the flag pole.
After raising the money for the flag pole, Borntrager was awarded an American Legion Auxiliary Good Deed Award. This award is given to youth who donate time and/or money for a worthy cause. Her unit nominated her for this recognition.
"I was very surprised and happy when I found out that I was getting an award for a simple thing like raising money for a tribute to our amazing veterans," she said.
The award nomination from her unit read:
"Sydney raised money for the Minnesota flag pole at the Trimont Area Veterans Tribute. She went door-to-door seeking donations from individuals and businesses as well. When she was done fundraising, she presented the committee with a check for $3,795 to help purchase the flag pole to be displayed at the tribute."
For Borntrager, the flag pole will have an added significance – especially for this year's National Flag Week, June 10-16 – which encompasses National Flag Day on June 14.
"I think it is so important that we represent those who fought for our freedom," Borntrager said.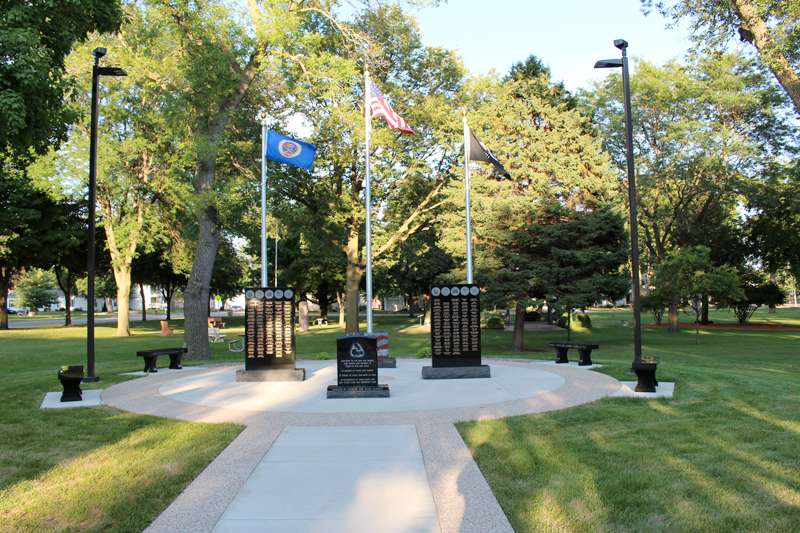 The Trimont Area Veterans Tribute where the flag pole is located.
"It made me very happy that I got to be part of something so near and dear to me and my family's hearts," Borntrager said. "It also showed me how important veterans are to Trimont and to the whole world."
To learn more about ALA Good Deed Awards, visit www.ALAforVeterans.org/Awards/Youth-Hero-Good-Deed-Awards.