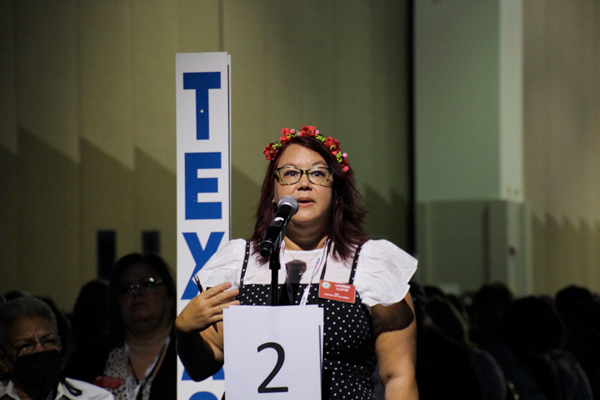 Department of Washington, D.C. member Lauren Lloyd asks a question from the floor during discussion at the ALA's 101st National Convention in Milwaukee.
American Legion Auxiliary National Convention delegates did a pretty awesome job taking care of the backlog of the organization's business caused by COVID and the 100
th
celebration. They voted to approve a national senior member (not Junior member) dues increase of $6 beginning in FY 2024, with no additional incremental increases. Convention delegates also voted on amendments that resulted in the following:
Updated and restated articles of incorporation: reformatted to match contemporary articles, added a provision that enables bylaws changes to allow the National Executive Committee to exit a board member for misconduct without relying on departments to do it; added a dissolution clause.
Created Ethical Conduct Committee to review complaints against national leadership; passed other provisions to allow for discipline of any NEC member by the NEC up to termination from serving on the board.
Constitution & bylaws amendments submission deadline: Put an official "submit by" date to meet the required 20 days' notice for distribution to departments. Otherwise, they could be submitted at the literal last minute before the required 20 days' notice. Also, amendments distributed in advance do not have to be read from the floor. Amendments made from the floor have to be read one day in advance of the vote.
National committee purposes and vice chairs: some committees did not have purposes listed and were missing vice chair designations (did not change their size). Auxiliary Emergency Fund, ALA Girls Nation, Community Service, Education, Junior Activities, Leadership, Legislative, Membership, Poppy, Public Relations.
Risk & Compliance is the only national committee that increased in size by adding a non-member qualified in risk and compliance to serve with voice but without voice.
Cleanup of provisions regarding national officers and National Executive Committee members in the wrong place.
Removed "suspend" and "revoke" from charter language; changed "due process" and "equal protection" to "fundamental fairness." Departments may now be disciplined by the NEC, not just have their charters cancelled. Departments may discipline or cancel unit charters. Only cancellation, not discipline of units, is appealable to the NEC. Fundamental fairness means adequate notice and an opportunity to be heard.
NEC Governance Wrap-Up: The NEC equally had a large agenda of amendments; it started on Saturday before convention, recessed, and continued the next morning. A lot of old resolutions never made it into the standing rules and just existed as customs. The NEC voted to include the following in the next publication of the ALA National Constitution, Bylaws, and Standing Rules:
ALA's mission statement, vision statement, purposes, and values.
National Headquarters' executive director to provide the NEC with the NHQ organization chart at the start of the administrative year.
Program reports are due to national chairmen by May 15; Department Impact Reports due to NHQ by June 1 (nothing new, just needed to put it in print!).
Members' names and contact information is for official ALA use only.
Clarification that NEC authorizes candidate(s) for national president travel to plan for upcoming year.
National president's pin adopted in 1930 is to be passed down from national president to national president.
Alternate NEC will receive all mailings sent to NEC.
In-person committee meetings have to be approved in advance in the budget (virtual meetings do not).
There will be an annual ALA Girls State Directors Conference.
"Due process" and "equal protection" are replaced with "fundamental fairness" which means adequate notice and an opportunity to be heard.
Departments will be notified of NEC and convention governance actions.
Clarifications on elections of honorary Junior officers; if there are no eligible candidates, a position remains vacant.
Charter cancellations may be ratified at any NEC meeting.
Eligibility through the service of deceased veterans may be established by providing the veteran's proof of military service.
Membership eligibility can be challenged; appealable to the DEC.
Membership cards reflect most recent join date.
Renewals will go out by September 15 from NHQ.
National organization may provide blanket crime insurance coverage to units.
NHQ fiscal year is October 1 through September 30.
New rules and procedures for cancellation of unit and department charters.
National Leadership Code of Ethical Conduct — conduct expected of national leadership.
Ethical Conduct Review Policy — procedures for how complaints against national leadership will be handled.
By Angie Graham, Staff Writer