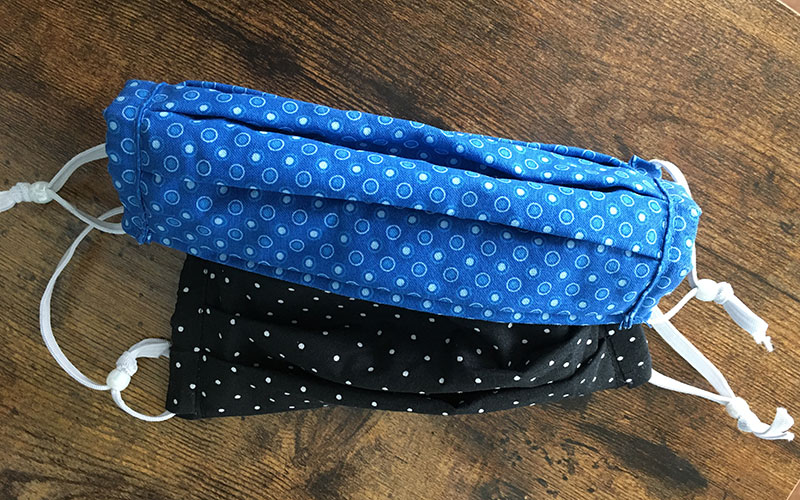 Natural disasters like hurricanes and wildfires have not slowed in this pandemic, and the Auxiliary Emergency Fund has seen no shortage of applicants in need. Aware of this, Linda Doege has helped support the AEF by sewing and selling masks.
Linda was introduced to the American Legion Auxiliary at a young age. Her father volunteered at events hosted by The American Legion where Linda saw many women walking around with the ALA emblem on their clothing. When she got older, she learned exactly what the ALA was, and would eventually start her own unit (Texas Unit 539) in 2016, where she is currently vice president.
Linda's unit engages in several ALA programs, such as the Poppy Program, collecting school supplies for students, and Junior members collecting comfort items for the local U.S. Department of Veterans Affairs home. Because of the pandemic, most of these activities were cancelled, so Linda decided to start making masks and selling them, donating the proceeds to the AEF.
"When COVID started, I had to do something, and people were needing masks. I had some material, and I put it out on Facebook that I was making masks, and that I was selling for $5 and I was going to donate all the proceeds to AEF," Linda said. "Especially now with COVID with so many people losing their jobs, I knew [the AEF] would get bombarded and need help. Then with hurricane season coming … it's just something that I know is really needed."
Linda has received widespread support from her unit and from ALA members throughout the state.
"I had some people say, 'Well, I have some extra material; let me donate that.' Then some people, when they came and got their masks, said, 'Here's an extra $10, $20, $30, $40, or $50,'" Linda said. "Through the ALA, I have met several people and friends on Facebook who saw my post and asked, 'Would you mail us some?' and I said, 'I will if you pay the postage.'"
Upon donating, Linda did not give credit to herself, but to all the people who supported and purchased masks from her.
"The money didn't come out of my pocket. A very small portion of it did. They knew it was a group effort, but they all knew the money I was collecting would go to AEF," she said.
Linda has committed over 375 hours to sewing these masks and does not plan on stopping soon.
"As long as they want masks and I have the materials," she said, "I'll keep going."
Click here
to join Linda and make a donation so no Auxiliary member faces a crisis alone. If you have been affected by any of these disasters, please
click here
to apply to the AEF.