ALA Stories blog series showcases positive American Legion Auxiliary experiences, thoughts, and ideas of ALA members. We hope these blog posts will inspire and encourage all who read them.
Very little keeps American Legion Auxiliary members Mayvee Smith and Johanna Jenkins from working on the ALA's mission of helping and honoring veterans, military, and their families, promoting patriotism, and mentoring youth.
Not hundreds of miles of roads. Not even a mountain.
Smith, a member of Auxiliary Unit 170 in Indian Head, Md., lives in Tampa, Fla. — about 900 miles away from her unit. She drives, or occasionally flies, to get to Unit 170. Jenkins, a member of Unit 3 in Price, Utah, has a mountain between her unit and her residence in Fort Duchesne, Utah. It's a 90-minute drive each way.
Though they may not make it to every meeting or every event, both women travel to their units when schedules, weather, and other circumstances allow. Read on to learn why these Auxiliary members won't let distance, or a mountain, keep them from living out ALA's motto: Service Not Self.
MAYVEE SMITH
Smith is an ALA member with a track record of coordinating or playing a key role in numerous activities, particularly those which honor veterans and military families. For example, Smith has coordinated and carried out the post home's POW-MIA recognition program, and put together a luncheon honoring women veterans.
About two years ago, Smith relocated to Tampa from Waldorf, Md., for personal reasons. Some events occurred, or were still in the planning and organizational phase, after Smith relocated. She traveled back to do her part.
"This area is more familiar to me; I have more contacts in the Maryland/Washington, D.C. area than I do in Florida. Contacts can be helpful when working on ALA programs and outreach, seeking guest speakers and things like that," Smith explained. "The reason I have been coming up and down those highways and roads has been to honor and educate through these programs. For me, it's a way to give back to veterans, to say 'Thank you,' and 'You're important.'"
Smith said she gives her time and efforts to ALA's overall mission in honor of her three uncles and two aunts who are U.S. Army veterans. Her uncles, Rueben Loveless and Samuel Loveless, both served during World War II. Her uncle Carney Loveless served during WWII, the Korean War, and the Vietnam War. Both of Smith's aunts, Mayvee Loveless and Gwendolyn Smith, served during WWII.
Mayvee Smith has been an ALA member for three years. Alejandra, Smith's 6-year-old granddaughter who lives in Florida, is a Junior member of Unit 170.
JOHANNA JENKINS
Being separated from her ALA unit by a mountain is no big deal for Jenkins, who was a transportation operator when she was in the Army. Jenkins just drives over the mountain. Not much — short of extreme winter weather — keeps her away.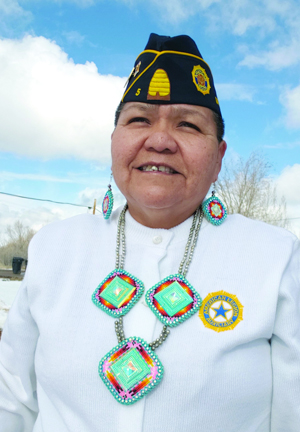 "Some things in life, like our Legion Family and the people we serve, are worth pushing past obstacles," said Jenkins, also a Paid Up For Life member of The American Legion at Post 5 in Myton, Utah. She joined the ALA three years ago through the service of her grandfather, WWII Army veteran Roger P. Jack.
After I signed up to be an Auxiliary member with Department Headquarters, I met the ladies of Unit 3. These women are wonderful, and they work hard to do good things for others. Here are examples of what I mean: The family of the first baby born on Veterans Day in the area gets a gift basket, and the unit donates book bags, pencils, and other school supplies for the kids. I want to be part of the types of things Unit 3 is doing," Jenkins added.
Jenkins — a member of the Ute Indian Tribe from the Uintah and Ouray Reservation in Fort Duchesne, Utah — is arranging to become a volunteer at the elementary school on the reservation.
"The next generation needs to know about the history. I like to share things about being in the military and being who I am. I want to encourage patriotism and tell the kids about our Legion Family," she said.