Kindness doesn't have to pick between a small town or the big city, between youth and senior adult years, or between an individual or a group. That's one of the reasons the American Legion Auxiliary — the world's largest women's patriotic service organization — appreciates and values all of our members. We know that generosity can come from a good-hearted person regardless of, for example, her zip code or age, or whether she stands alone.
ALA member Rachel Porter is a shining example of this. Rachel is the only Junior member of Unit 65 in Saluda, S.C., and she didn't let that fact deter her from showing kindness and care to numerous veterans in her small community.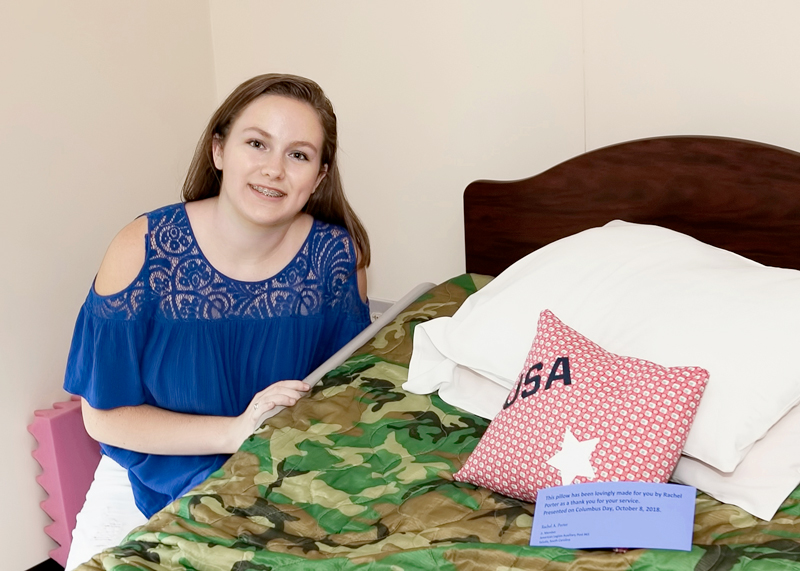 ALA Junior Rachel Porter of Unit 65 in Saluda, S.C., made more than 20 of these patriotic-patterned pillows for local veterans. Rachel, the only Junior in her unit, receives support from the adult members in Unit 65. Photo by Dan Guy, member of American Legion Post 65 in Saluda, S.C.
"I realized that I had been a Junior member since the early 2000s, and that I could be a lot more active than I am. It's not hard to go and sit down and talk to someone for a while, or take them a card. It really brightens their day. It didn't matter that I am the only Junior member at our unit," Rachel said.
At age 17, Rachel decided she would make patriotic-patterned pillows for local veterans, most of whom live in the town's nursing home. She wanted to visit and chat for a bit with each veteran to whom she gave a pillow.
Rachel said she received solid support for the project from the unit's adult members, several of whom helped her with some of the organizing. But Rachel made the pillows and the visits. In all, she gave a pillow to each of the 26 veterans at the nursing home and to two other veterans in her community who don't live at that facility.
---
"It was just great seeing, not what I did, but the impact that it had on them. They seemed to appreciate the pillows and the visits. I won't forget the smiles on their faces. It was an honor for me to do something for our veterans," said Rachel, who turned 18 last month. She said she intends to stay in the ALA as an adult member.
---
Although Rachel is the only Junior at her unit, she is not really alone. As evidenced by their help with her patriotic pillow project, there are adult members in her unit who support and care about her. The feeling is mutual, Rachel said: "I love all of our members at our unit. They're precious to me!"
Rachel Porter is one of thousands of ALA members — women and girls from a variety of backgrounds, from all over the world — who unite under our common cause of honoring and helping our military heroes and their families; promoting patriotism; mentoring youth; and encouraging good citizenship in our communities. That is the ALA's mission. We know that each Auxiliary member can help us fulfill that mission. It doesn't matter if she is from a small town, a big city, a unit of a hundred members … or if she is the only Junior in her unit.
Two other noteworthy examples of ALA Service Not Self:
ALA Unit 197 in Harbor Beach, Mich. — a small lakeside area — collected goodies, comfort items and gift cards, and prepared buddy baskets for four local veterans. "The members of our unit got very fired up; finally, we had found local veterans in need and the number was manageable for our small group," Unit 197 member Nancy Erb told Auxiliary magazine recently.
Fourteen-year-old Raegan Junge, the only Junior in ALA Unit 107 in Keystone, Iowa, has been selflessly helping others for the last eight years of her life. That includes raising close to $50,000, over the last seven years, to help people who survive natural disasters. In that time, Raegan has also held several annual Christmas celebration events for veterans who have no one with whom they can spend the holidays. Read more about Raegan in Auxiliary magazine's May 2019 edition!
A diverse membership brings into the American Legion Auxiliary different perspectives which can help sharpen our shared vision as an organization focused on delivering selfless service to our nation's military heroes and their families, and to our communities.