This is an extended interview with Arkansas ALA Junior member Ashlynne Jenkins from the May 2018 issue of Auxiliary magazine.
At 14 years old, Ashlynne Jenkins of American Legion Auxiliary Unit 158 in DeWitt, Ark., already embodies Service Not Self.
She joined the organization about five years ago through her grandfather, Johnny Purdy.
"Giving back to our veterans is very important to me," she said. "They put their lives on hold, left their families behind, and served for our rights and freedom.
---
Nothing I can ever do will truly be enough to say 'thank you' to them [veterans], but I can do my best by representing them through the American Legion Auxiliary."
---
Charlotte Purdy, Junior activities chairman for Unit 158 and Jenkins's mother, said Junior members like her daughter are very important to the future of the ALA.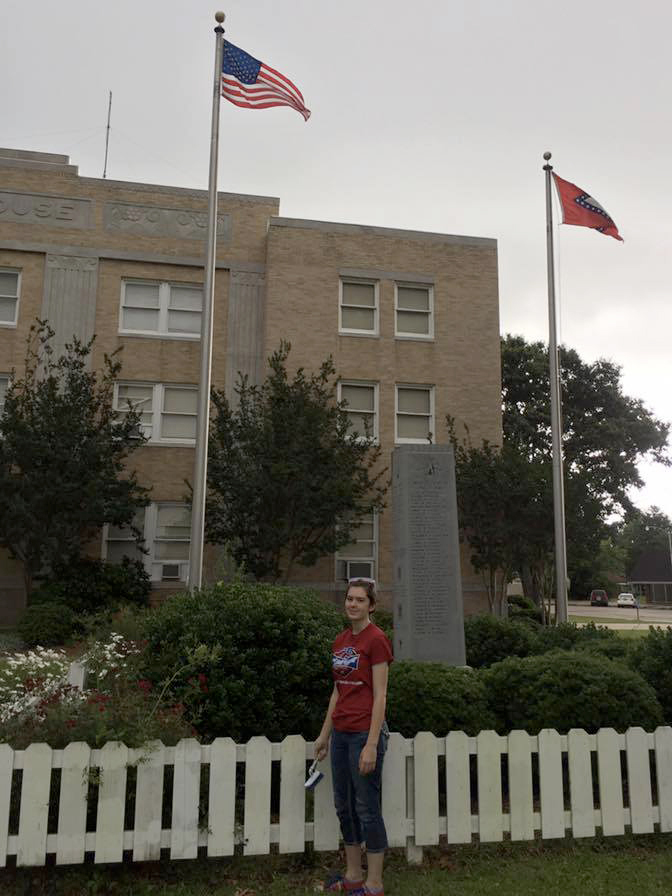 She helped clean the fence at the Veterans Memorial Monument for Memorial Day in May 2017.
"Ashlynne has been, and continues to be, a Junior member who wants to keep the ALA alive so our veterans receive the respect they so well deserve," Purdy said. "She has brought a new light to our unit with her willingness to go above and beyond to show her support for the men and women who have served our country."
Jenkins' first involvement with the ALA was through the Poppy Program. Since then, she has participated in several other activities, including a cleaning effort for a local memorial.
"The monument had mold on the side of it, and the fence surrounding it was dirty," she said. "We got out there on a Saturday morning and started scrubbing away. It started raining, but I stayed out there anyway."
In 2017, she added another project to her list of volunteer work. She began gathering donations to make care packages for veterans. She asked people in her town to write a letter to servicemembers and ended up receiving 16 back. She included one in each box and hand-delivered the packages to veterans at Fort Roots in Little Rock.
For the remainder of 2018, Jenkins still has several projects in mind to help our veterans, military, and their families, while also working on earning her Junior patches.
Jenkins hopes to hand out bookmarks at her school on Flag Day (June 14). The idea stems from her love of reading and a desire to educate fellow classmates on the Pledge of Allegiance. Along with this, she would like to urge more children and her peers who are eligible to join the ALA as Junior members.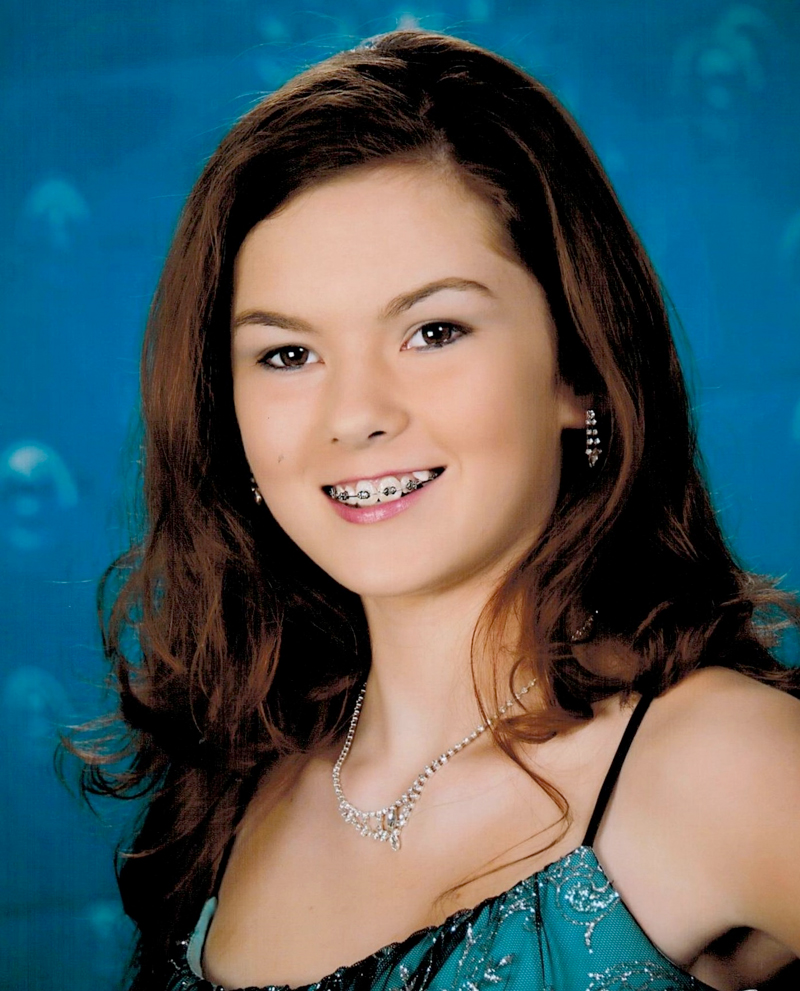 She will also be helping her unit's senior ALA members replace the fence around a local veterans memorial, as well as create flyers to encourage people to attend a Memorial Day service.
Also on her list of things to accomplish this year is to learn how to properly fold the American flag.
"She pays close attention to the flags that fly on the campuses, and if she notices that they are tattered or torn from the wind, she goes to the principal and reminds them that it's time to retire and replace the flags," Purdy said. "She is very particular about the flag and how it is flown and displayed."
Jenkins' Service Not Self,mindset continues to drive her to participate in numerous activities.
"She is at every function we participate in and goes above and beyond to do more than her fair share," Purdy said. "She comes up with ideas of things to do to help support our veterans and their families. The list just goes on, and she continues to amaze us with everything she does."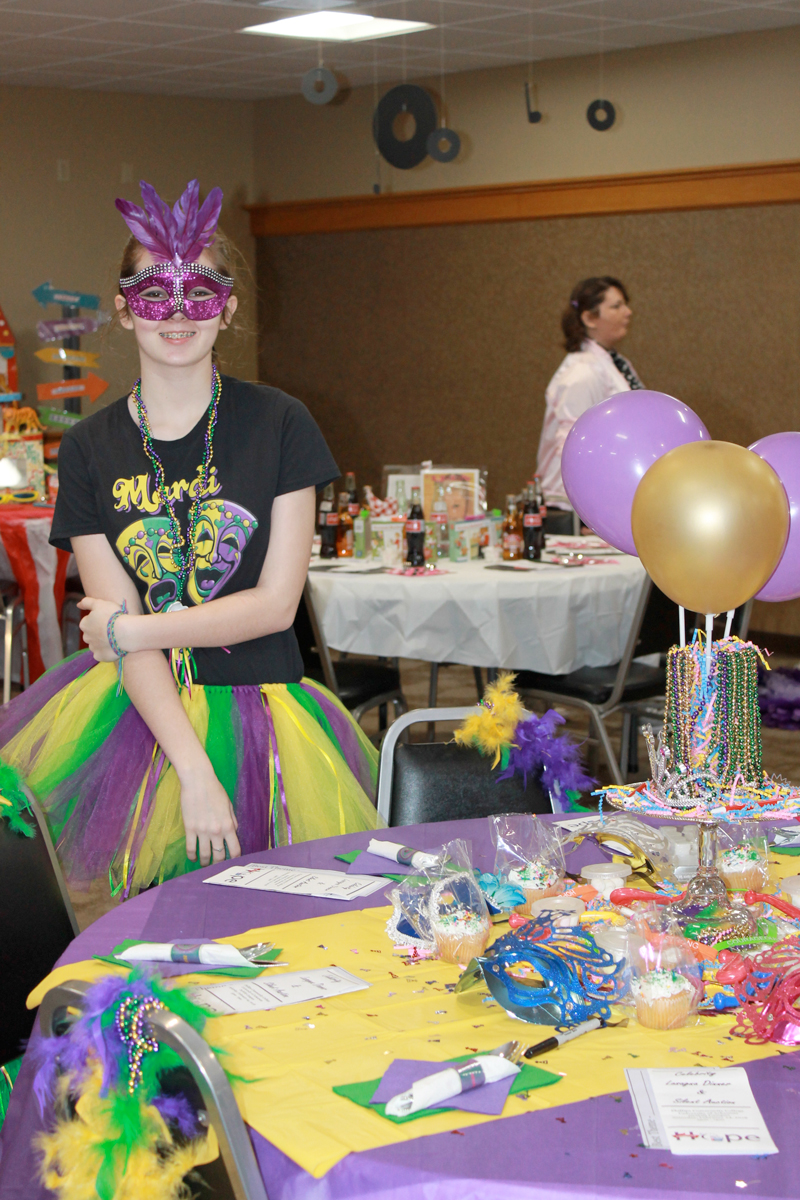 Ashlynne volunteering as a celebrity waiter during the 2nd Annual Relay for Life Celebrity Waiter Dinner.
As she adds more projects to her to-do list, Jenkins reflects on why she loves being an ALA Junior member.
"I want to make a change and represent our unit well," she said. "Our unit is small, and I am the only young member who attends their meetings. If I can get more people to join, then it will help make sure that our unit stays strong."