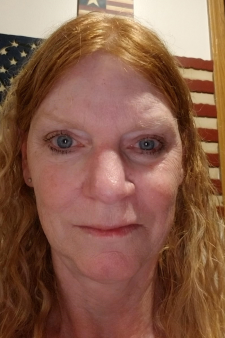 Melissa Stepp has been a member of the American Legion Auxiliary for four years. She began as a bartender at her local American Legion post and works there today. After learning about the ALA from her sister, and seeing how the unit impacted the community, Melissa decided to join.
Soon after, she began organizing her own events for our nation's heroes, including a chili cookoff that raised nearly $5,000 for ALA scholarships. The Auxiliary's scholarship program is near and dear to Melissa, who has grandchildren who will attend college one day.
However, the time would come when Melissa would need help from the ALA in return. One night at work, she received horrible news that her house had caught fire. With her daughter, son, and two grandchildren living there, this was one of the worst possible calls she could have received.
"It was devastating. I was at work and I got a phone call from my daughter. I could barely understand her. All I got out of it was the house was burning," she said.
Thankfully, Melissa's family was unharmed, but they still had to deal with damage done to their home. Luckily, Melissa's unit president told her about the Auxiliary Emergency Fund and encouraged her to apply.
"My Auxiliary president was the one who told me about it and gave me the information because I had no idea it existed," she said.
According to Melissa, the application process was nothing to fret over.
"It was easy. It was just filling out paperwork," she said.
Melissa applied to the AEF and was awarded a grant that gave her much needed assistance as she dealt with the aftermath of the fire.
"It's been so helpful. We had to clean up after the fire," she said. "That's what it did – it helped us clean up."
It also helped provide the necessary food for her son and grandkids, since they were forced to relocate after the fire.
"They had to relocate and move in with my other son, so it's been helping pay for their groceries so that they're sustained while living there," she said.
Ask Melissa why others should donate to the AEF, and you'll receive a straightforward answer.
"Because you never know who, what, when, where, how, or why someone is going to need this," she said.
Click here to donate to the Auxiliary Emergency Fund and ensure your fellow ALA members get the assistance they need when disaster strikes. Just as Melissa pointed out, it could be anyone in your unit who needs the help, and you can make sure they have it.