Guest blog post by ALA member Judith G. Smith, Department of Illinois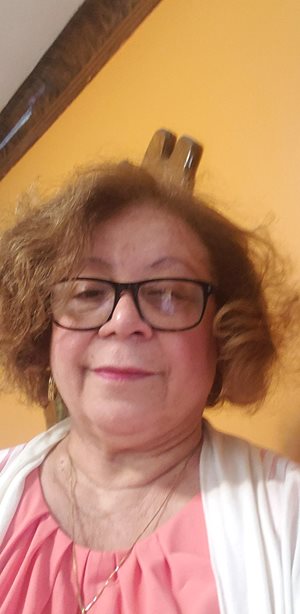 "Caregiving has been the mission of my mind, body, and spirit." This was my guiding light and mantra as I dealt with caring for five family members before, during, and after the pandemic. Usually, people have one person at a time to extend caregiving services to, but in my case, for three years straight, I took care of my elderly mother and father, my sister who fractured her brain during a fall, my autistic daughter, and my retired veteran husband, who is wheelchair bound. How did this happen and how did I overcome? What got me through the turbulence and the mighty storms? I had to fill my heart and soul with gratitude, patient love, warm compassion, and constant understanding.

My parents were in their 90s. My father, Gordon, was in a nursing home. I regularly visited him and spent quality time sharing moments and memories of his tour of duty during World War II. He was also a Chicago firefighter for over 30 years. I admired my father for his strength and fortitude and brought him food and supplies almost weekly until he died.

My mother in the meantime was living at home by herself and struggling to keep up a house and mounting bills and repairs. She was a retired teacher and enjoyed her different bridge clubs and other groups. I took her food and went to the store for her necessary items and a few special ones in between. She didn't allow me to clean much because she had her own special way of doing things, so I helped her with small tasks and stayed involved with her care.

Then, there was my sister Nancy. Nancy was my star. She was mentally handicapped, yet she had a heart of gold. I took care of her many times during the years and bought her favorite games, dolls, and stickers. As she got older, her balance was off, and she fell down two flights of stairs and fractured her head. She never fully recovered and died in hospice.

My husband, Raoul, got sick during the height of the pandemic and was hospitalized for a month and in rehab for another month. When he came home, they didn't tell me that he couldn't walk. I rushed to a thrift store to get a temporary wheelchair and then bought him a new one three days later. He also is a veteran and reads magazines about the wars and he loves trains, like my father did.

Taking care of the everyday needs of my husband is difficult. I had issues of my own to deal with and his care required me to reorganize the house and to change regular routines. His legs were swollen he couldn't stand or walk for only a few steps at a time. It was so hard doing everything — I had to serve him breakfast, lunch and dinner, clean-up, wash clothes, run endless errands, and make sure he took his medicines and buy special supplies and snacks. During this time, I was deeply concerned about his well-being and how to help my parents and sister (before she passed) and continue to stay actively involved with my daughter's care.

It was overwhelming to say the least. Sometimes, I felt that my head and heart would explode on impact. Having so many responsibilities at one time turned me into a twisted wad of chaos and confusion. I could barely find any free time for myself. My chest felt hard and frozen. I had to crack open my head each day like an egg to allow peace and serenity to flow in to help me get through each day. The hardest part at first was getting my husband into and out of the bathroom. Luckily, my son helped with this. His reliable supporting presence gave me peace and hope. My face was frozen from not being able to release the stress and pressure. I felt like I was going to have a stroke but with faith and gratitude, I was able to maneuver the obstacles and find joy in living. Yet, I felt trapped by the pandemic, lonely, afraid, and exhausted by the endless tasks, phone calls, and constant care. I had to encourage myself with positive words and continuous prayer. What happened to my marriage and retirement? We planned to travel extensively and enjoy the freedom of visiting places far and wide. Yet everything changed in an instant and I was thrust into direct caring for my husband which continues to this day.

My daughter, Dee, was another issue. Even though she doesn't live with us anymore, I am aways her mother, advocate, and caregiver. People don't realize that in having a handicapped child or young adult, you have to deal with numerous professionals. I was constantly speaking with nurses, doctors, physical therapists, psychologists, speech therapists, and health care workers. Dee got COVID twice and my heart was shattered as I helplessly had to care for her from afar because in her facility, COVID was running rampant. Furthermore, the pandemic kept my mind on high alert as to the level, quality, and attention she was getting. I was feeling lost and alone. I am and always will be her advocate and I had to fight to make sure that she was taken care of.

The one thing that kept me sane and grounded was being the secretary and historian for the American Legion Auxiliary Unit 854 in Evergreen Park, Ill. In extending my connection to homeless veterans at the Jesse Brown Facility, I was able to help plan luncheons, fill ditty bags with personal items, and listen with patience and compassion to their trials and tribulations. It was a journey of joy to be able to help them because my own father and husband were veterans also, and it felt like an extended family.

I learned valuable lessons while being actively involved with five family members at the same time. I learned to lift up others with encouraging words and deeds, support those who were struggling with gifts and cards, reach out to other caregivers like me, and be a conduit of love and light. In being a published author and writer, I was able to write five journals of my true feelings in caring for my family. I believe my writing messages, thoughts, emotions, and poems, helped me navigate the shifting landscape of uncertainly, loneliness, fear, resentment, and mental turmoil. I am blessed to continue to be a caregiver for my mother, daughter, and husband and I always have time to work with our present veterans at the post and continue to honor those men and women who have served in the past.