The following is a sensitive subject matter. Reader discretion is advised.


American Legion Auxiliary members continue to serve the mission, with Service Not Self in mind, and oftentimes end up enhancing the lives beyond our veterans and servicemembers. Brenda Francis, a member of Unit 26 in Maryland, and Shirl Edwards, a member of Unit 202 in Maryland, donated their old wedding gowns to an infant loss support group, Sweet Grace Ministries, which repurposes wedding dresses into "Angel Gowns" for families who experience the heartbreak of an infant loss.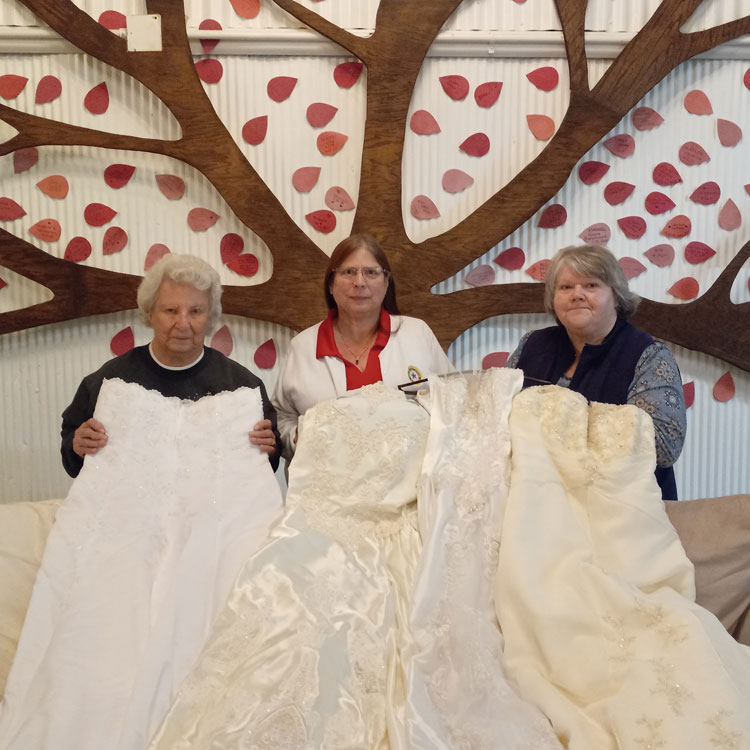 SUPPORT FOR THE HEARTBROKEN (from left): Wanda Farmer, Brenda Francis of Auxiliary Unit 26, and Shirl Edwards of Unit 202 in Maryland donate wedding gowns to be repurposed into "Angel Gowns" for grieving families.
"I love knowing that my wedding dress will provide a small measure of comfort to a grieving family," said Francis. "It's really a very special program — to just have people out there reaching out to you and guiding you, and telling you 'We are here, and we care, and here are some things of comfort for you.'"
Sweet Grace Ministries provides resources to families enduring any infant loss. The organization helps and supports grieving mothers and families with comfort bags, photography, support groups, remembrance events, thoughtful baskets, and so much more. As part of their support services, the organization makes handmade burial/baptism outfits for families enduring stillbirth or neonatal death.
"Very often when you go through a sudden death, your brain kind of shuts down and you really don't know what it is that you need to do," said Francis. "So having someone provide a special handmade gown for your child to wear is something you may not think about in the moment, but you're going to think about it later — and be so grateful for that, and so grateful for the memories that this program also provides by taking the photographs."
Edwards, Francis, and Francis' mother and Auxiliary supporter, Wanda Farmer, donated four wedding gowns to Sweet Grace Ministries. After going to the organization and learning more about the great work volunteers do for heartbroken families across the country, Francis plans to share the idea with other Auxiliary members.
"It was just really, really special — I know it affected all three of us who went that day," said Francis. "It was like 'Wow … this is such a big deal' and it's important for the parents to know there are people out there who care and want to help."
The organization partners with local hospitals and gifts grieving families with heartfelt baskets filled with a stuffed animal, journal, soothing tea, a coffee mug, lotion, a handknit blanket, bracelets, resource information, a book about infant loss, a hope butterfly, and much more. They also provide families with comfort bags filled with similar items. Baskets or bags can be requested on their website. Sweet Grace Ministries also offers counseling and support groups for any parent who has experienced the loss of their child through ectopic pregnancy, miscarriage, stillbirth, or neonatal death.
"I just can't imagine what the parents are going through when you look forward to a birth for so long, and the child passes — it's just devastating," said Francis. "But this program can help those families, and anyone can donate to have a basket sent, or you can donate $10 for a comfort bag that is mailed to them in honor of their lost child."
For more information about Sweet Grace Ministries, visit
sweetgraceministries.com
, and for info on how to donate a gown, email
sweetgracegowns@gmail.com
.