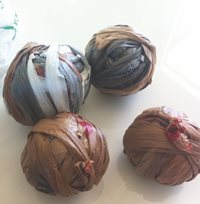 You can help homeless veterans AND benefit the environment at the same time. By collecting plastic bags and crocheting them in to sleeping mats, you can give a homeless veteran a soft place to lay his or her head and help keep plastic bags out of oceans and landfills.
Maria Mendez-Young and other American Legion Auxiliary members in California are part of an initiative to create and provide these sleeping mats to homeless veterans in their community.
Each 6-foot-by-2½-foot mat is made from 600 to 700 recycled plastic grocery bags and takes about 50 hours to make.
"They are lightweight, waterproof, and, from what I hear, bugs stay away from them," Mendez-Young said.
Other groups across the country are doing similar projcts. Interested in learning how your crocheting or knitting craft can help homeless veterans? Follow these steps:
Be a collector – Collect clean plastic bags from the grocery store and other places. The bags should be in good shape and not full of holes.
Be a folder – Return the bags to their original shape.
Be a cutter – Cut off the bags' handles, as well as an inch from the bottom of the bags. Then cut the bags into 2½-inch loops.
Be a "plarn" maker – Link the loops to form plarn (plastic yarn) and roll them into balls like you would with a ball of yarn.
Crochet OR knit the rows:

Crochet the mat into a 6-foot-by-3-foot mat. It is a single crochet with a size P or Q hook.

Make a chain 36 inches long, which is about 66 chains. Make the loops loose with a little space between each one.
Make an extra loop at the end to use as your turning point.
Start at the third loop to make your second row.
Continue until the mat is 6 feet long.
Crochet from front to back so that it does not pucker up.
Crochet two rows of a single crochet to form a tie that is 80 inches long. Connect the tie to the mat so the mat can be rolled up and carried like a sleeping bag.

Knit the mat using size 19 knitting needles. Knit approximately 50 stitches until it reaches about 2½ feet wide. Keep knitting until it reaches 6 feet long. Cast off, and you're done!
For more information on what Mendez-Young and American Legion Auxiliary Unit 291 are up to, click here.