Guest Blog by American Legion Auxiliary National President Nicole Clapp
Health and well-being of our nation's veterans, military, and their families has always been a priority of the century-old American Legion Auxiliary. That priority is the Auxiliary's special emphasis this year — and you can help continue our legacy of showing compassion and care to those who served our country.
Make a donation to the American Legion Auxiliary Foundation for #GivingTuesday on Dec. 3, 2019, and encourage others to do the same. Contributions in any dollar amount can make a difference in the health and quality of life of our military heroes. By donating to the ALA Foundation, you are touching lives. You are serving the ALA's mission. You are Celebrating a Century of Service!
Since 2014, the ALA Foundation, through the Veteran Projects Fund, has granted over $181,000 to support American Legion Auxiliary units and departments serving local veterans through various programs and projects aimed at improving their health and well-being. These projects include installation of wheelchair-accessible picnic tables; the purchases of tandem bikes and specialized exercise equipment; and the funding of advanced art therapy technology.
One grant allowed a veterans living center in Texas to purchase the It's Never 2 Late Mobile Flex System, which helps people of any ability use technology and enhances the quality of life for patients. It provides stress relief, improves social engagements, and reduces anxiety. It also offers opportunities for veterans to reconnect with their faith, history, and loved ones in ways they never could before. The system is particularly important for veterans with neurocognitive disorders such as dementia, as it can boost their cognitive function.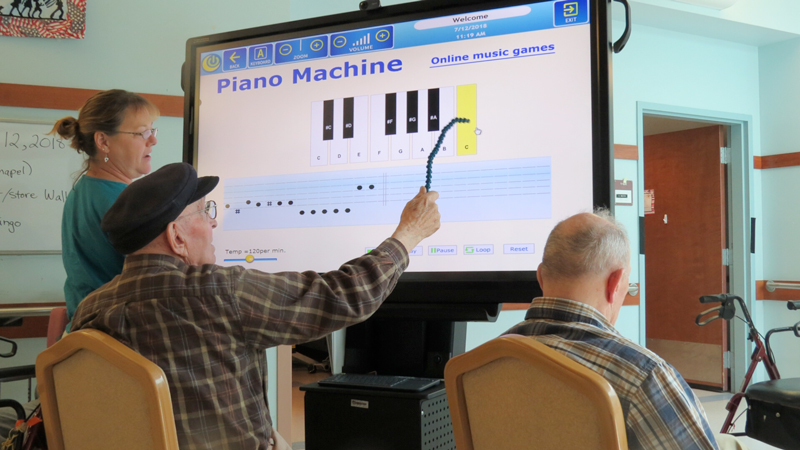 A veteran at the New Hampshire Veterans Home uses the It's Never 2 Late Mobile Flex System technology —the same system that Community Living Center in Texas purchased. Each site received an ALA Foundation Veteran Projects Fund grant to acquire the technology.
Photo Submitted
"I am very excited about the possibilities of this project to improve quality of life for some of the most vulnerable residents in the Community Living Center, and I am grateful to the ALAF for their support of this endeavor," said Dr. Karen Benson of the living center in Texas.
Observed globally, #GivingTuesday is a day dedicated to giving back in ways that helps others. It falls on the Tuesday immediately after Thanksgiving Day.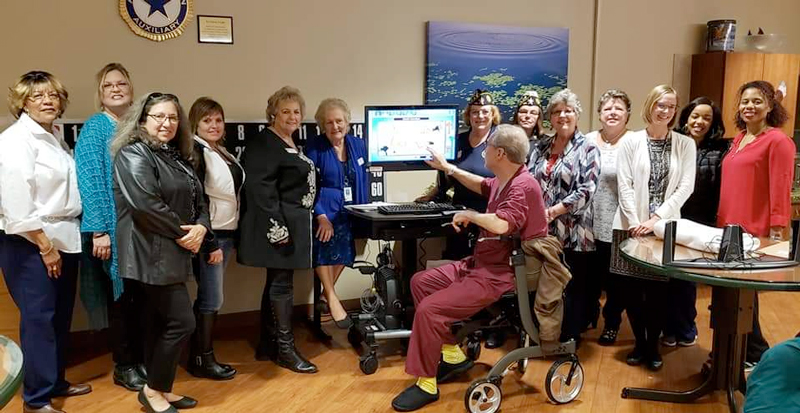 Members of the American Legion Auxiliary Department of Texas gather with Dr. Karen Benson and her staff at Community Living Center in Texas.
Photo Submitted
Let's all participate in this special day by giving to the ALA Foundation. Donating is easy. Learn how you can make your donation, or read more about the ALA Foundation, at ALAFoundation.org/givingtuesday.