Social distancing doesn't mean you can't continue to raise funds for your local American Legion Auxiliary unit! Try one of these three easy, COVID-friendly fundraisers to support your unit's mission outreach:
1. Go Live on Facebook
Lights, camera, action! Going live on your unit's Facebook page is an exciting way to engage not just ALA members, but all of your supporters. When you go live, you can spend time sharing information on the Auxiliary's history and values, your unit's current goals, and how your followers can support the unit during this time. You can encourage viewers to participate by having them ask questions in the comments section and sharing when they donate. Be sure to include the link to your unit's Facebook page so it is easy for followers to donate! If you do not have an online donation form, share how your supporters can mail a check, as well as your other donation options.
In order to make sure your supporters tune in, be sure to promote the event about one to two weeks ahead of time. Create a fun graphic that gives the date and time and conveys that you want to go live in order to raise support for your unit. You can create graphics through Facebook's interface, or use free software like Canva.
How to Set up a Facebook Live Event:
Go to

Facebook.com

on your desktop or to the Facebook app on your mobile device.
Head to your American Legion Auxiliary unit's Facebook page (the person your unit designated as administrator will have access to this).
Right above "Write a post…" there is a section that reads, "Create," and to the right of it, click on "Live."
Add a title and caption, including a link to donate to your unit or the address to send checks.
Go live!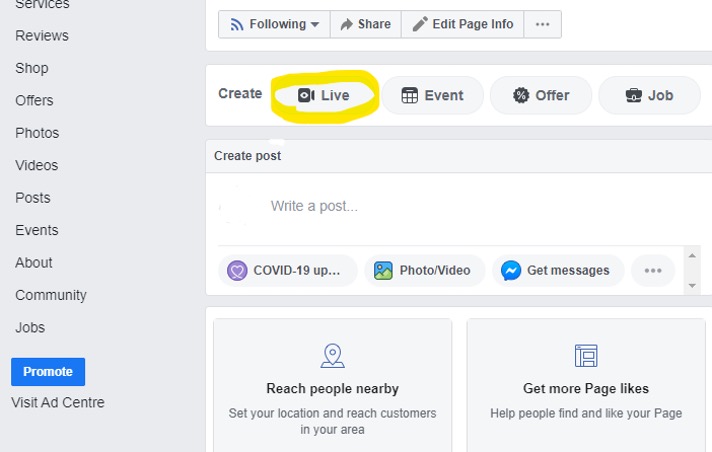 Right above "Write a post…" there is a section that reads, "Create," and to the right of it, click on "Live."
Also – don't forget to have fun! It can seem scary to go live on camera in front of everyone, but don't be nervous. Everyone tuning in cares about the Auxiliary and wants to support what you do. They will be happy to see there is a way they can continue to serve, even from their couch!
If you do not feel comfortable going live, you can always create a pre-recorded video to post on your Facebook page that gives an update on your unit and shares ways to donate!
2. Virtual Bingo Night
Get everyone together for game night from the comfort of their home! Post on your unit's Facebook page that you are hosting a virtual bingo night, and you can charge a fee to join via Eventbrite or a different online event management/ticketing program. After the member or supporter buys their ticket, email them a bingo sheet and link to the virtual meeting.
Once everyone is together, make an announcement in the beginning and during the event that participants can continue to support your unit, while sharing the link to donate or address to send checks. If you have a specific project going on at the moment, be prepared to share those details as well.
3. DIY Crafts
Use your hobbies for good this fall! Do you crochet? Knit? Paint? You can take time to create crafts and sell them to people in your community, with all of the proceeds going to your ALA unit.
Promote the fundraiser on your unit's Facebook page, post fliers around your community, and call your friends and family. For those interested, have them fill out an order form or reach out to you about what they would like, depending on what you are creating and selling.
Also, consider offering no-contact delivery by dropping off items at donors' doorsteps. There are several ways to receive online payments – PayPal, Venmo, if your unit has an online donation portal, etc. – but you can also coordinate for them to leave a check or cash on their porch.
Has your American Legion Auxiliary unit hosted any of these fundraisers? Does your unit have a great social distance fundraiser you would like to share? Send your stories to us at alamagazine@ALAforVeterans.org or on social media @ ALAforVeterans.