To teach our adult American Legion Auxiliary members how to make Juniors' experiences more fun and meaningful so they continue their ALA membership into adulthood, the ALA Academy is offering a free webinar on the Junior Activities Patch Program.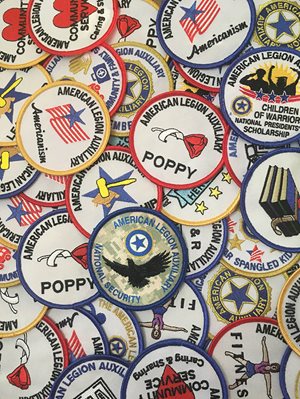 The Patch Program has been a vital component of Junior Activities for many years. As a fundamental program tool, it teaches our younger members about the mission they are charged with carrying on: helping veterans, military, and their families. Additionally, school-aged Sons of The American Legion members can participate in the program.

The ALA Patch Program has three levels: Level 1 (kindergarten through third grade), Level 2 (fourth through eighth grade), and Level 3 (ninth through 12th grade). There are 34 patches available across the three levels.

As mentors, leaders need to know how the program works and how to engage Juniors in earning patches. For units without a Junior Activities program, this is the easiest way to engage the ALA's younger members.

The Junior Patch Program course addresses the questions leaders have and will help them feel confident in managing the Patch Program.

In this course, attendees will:
Develop an understanding of how the ALA Patch Program relates to the Auxiliary's mission.
Learn how to engage Junior members in the Patch Program.
Learn how to manage the Patch Program.
Receive guidance on how to engage The American Legion Family in the Patch Program.
"The hope is to have the Junior Activities advisers have a good working knowledge of what the Patch Program is and how we can help Junior members achieve these patches," said Suzanne Knapp, national Junior Activities Committee chair. "The advisers need to be flexible, as we are having to adapt to the pandemic and some of the program requirements need to be slightly tweaked. Going to a virtual world instead of in-person presentations is just one example."
The same course will be offered at different times and will last approximately 45 minutes. Pick the date that works best with your schedule:
Thursday, Jan. 28, at 7 p.m. ET
Tuesday, Feb. 2, at 9 p.m. ET
Register
today.
There are many benefits for Juniors who participate in the Patch Program, Knapp said. Here are a few:
Learn how to be a leader and organizer.
Learn the American Legion Auxiliary's history and why it is important to help veterans, their families, and communities.
How to organize an event from start to finish.
Instill a sense of patriotism.
Learn U.S. Flag Code.
Importance of our military and the sacrifices they make to maintain our freedom.
The political process at all levels.
Learn how to mentor the younger members.
Compete in essay and poster contests.
Learn about scholarships available not only to Junior members, but all students.
Learn what TAPS, Blue Star Banners, POW/MIA, etc. mean.
Teach senior members and others about emerging technology and help them utilize it.
Visit veterans, talk to them (history), and make a difference in their life.
The Patch Program webinar is the second in a series of Junior-related courses being offered through the ALA Academy. Upcoming courses include
Working with Juniors and the Legion Family
and
Junior Meetings — In-Person and Virtual.
If you missed the first course offered in this series,
Getting Started with Juniors,
visit
www.ALAforVeterans.org/ala-academy
to view the recorded webinar.