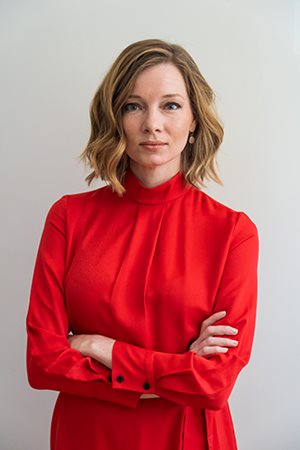 Kristen Soltis Anderson attended ALA Florida Girls State and ALA Girls Nation in 2001. Anderson is a political commentator, speaker, pollster, and author of The Selfie Vote: Where Millennials Are Leading America (And How Republicans Can Keep Up). Anderson is the host of SiriusXM's The Trendline with Kristen Soltis Anderson on their nonpartisan POTUS politics channel. She also is founding partner of Echelon Insights, an opinion research and analytics firm. You may have seen Anderson on talk shows such as The View or have read one of her articles in The Washington Post or The New York Times.

Anderson received her bachelor's degree in political science from the University of Florida and her master's degree in government from Johns Hopkins University.

Did you have an interest in politics before attending ALA Girls State and ALA Girls Nation?
I did! I had been a member of my high school's debate team and part of student government. This was part of why I decided to run for governor at ALA Girls State. Participating in ALA Girls State and ALA Girls Nation made the things I had learned and practices in those activities feel more real and showed me how those skills could be applied.

What impact did attending ALA Girls State and ALA Girls Nation have on your college and career path? From visiting Washington, D.C., for ALA Girls Nation, I knew I wanted to move back to D.C. at some point in my life. I moved here after college and have built a life here! At ALA Girls State, I made a lot of friends who I would continue to get to know when we all arrived at the University of Florida for our freshman year. Having that ALA Girls State network was so great when arriving at a large university.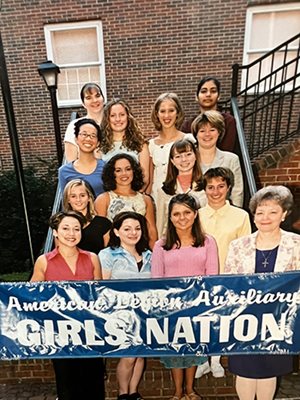 What is your favorite memory of attending ALA Girls State and ALA Girls Nation?
At ALA Girls State, getting to meet then-Gov. Jeb Bush was a true highlight. I've remained a big fan of his ever since. Later, at ALA Girls Nation, we got to meet his brother, President George W. Bush, and when the Florida delegation took a photo with him, he made a joke about how our governor was a good guy.

At ALA Girls Nation, my favorite memory was visiting the monuments. I especially remember the Korean War memorial on which the phrase "Freedom Is Not Free" is carved into granite. A powerful but much needed reminder in any era.

What advice would you give to girls attending ALA Girls State and ALA Girls Nation?
Stay in touch with the women you meet! This is easier nowadays with social media, but truly the network of friends you will make means wherever you go for college or land in life, you will likely have someone you know who has this shared experience.

Anything else you would like to add?
I remain so grateful to the American Legion Auxiliary Florida Unit 286, especially Fran Ridgley, for supporting me on my ALA Girls State and ALA Girls Nation journey!


ALA Girls Nation will hold its 75th session in July. Visit @ALAGirlsNation on Facebook and Instagram to see pictures! Then watch for a feature on ALA Girls Nation in the November issue of Auxiliary magazine.


We want to hear from alumnae of all ages! How has ALA Girls State or ALA Girls Nation impacted your life? Tell us your story. Email us at ALAMagazine@ALAforVeterans.org.