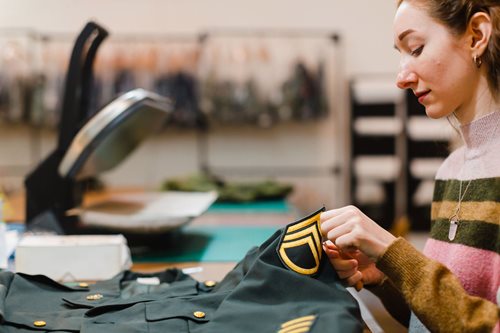 As members of the American Legion Auxiliary, we are committed to honoring the sacrifice of those who serve by enhancing the lives of our veterans, military, and their families. Cameron Cruse and Lisa Bradley, co-founders of R.Riveter, created a company that echoes this commitment. Co-recipients of the 2017 American Legion Auxiliary Woman of the Year Award, and both military spouses, Cruse and Bradley experienced firsthand the struggles of finding employment while supporting their military spouses and families through constant relocation. Out of that struggle, R.Riveter was born with a mission to help military spouses and their families find employment that was both stable and mobile. The company makes one-of-a-kind handbags, each with a unique story stemming not only from the process of crafting each item, but also from the materials used.

"R.Riveter doesn't hire military spouses to make handbags. We make handbags to hire military spouses and create a greater sense of mission," reads a description from the company's website at www.rriveter.com.

What started as two women working out of an attic has quickly grown to a network of military spouses across the country. After a 2014 Kickstarter campaign and the subsequent 2015 opening of a brick-and-mortar store in North Carolina, Cruse and Bradley were able to further grow R.Riveter with an appearance on the reality TV show Shark Tank for budding entrepreneurs, plus an investment by Mark Cuban in 2016. Since Shark Tank, R.Riveter has opened a new warehouse and launched Post to Pillar, a marketplace of home decor and accessories handmade by military spouses.

Today, R.Riveter employs 29 local Riveters and 48 remote Riveters. That title, and the company's name, pay tribute to the iconic image of "Rosie the Riveter." Each Riveter has a special ID number stamped on the R.Riveter product at whatever stage in the journey the handbag is in. Every handmade bag can have as many as five Riveters working on it throughout the process, including working on leather, canvas, or within the store. When all of the pieces come together to culminate in a bag, the final product carries the Riveters' stories with it, wherever it goes.

Stories such as these have been on display through a recent partnership between the ALA and R.Riveter. In January and March, R.Riveter hosted auctions through Instagram, auctioning off two one-of- a-kind handbags from their Heirloom collection and donating 100% of proceeds to the ALA. The Heirloom collection is a program that transforms a loved one's military uniform, blanket, duffel bag, or other materials into a personalized handbag with memories.

The auctions, which raised $1,910 for the ALA, featured a handbag crafted from a 1955 USAF Greatcoat and a Marine Corps dress jacket. Today, their reinvention as stylish accessories will remind everyone of the stories being told, the stories never known, and the duty to keep honoring their tales.

The auctions earlier this year are part of a few to be held throughout 2022, each of which will see 100% of proceeds designated to serve veterans, military, and their families.

If you would like to find your own unique way of giving back, visit www.ALAforVeterans.org/donate.