Auxiliary members continue their efforts of honoring the sacrifice of those who serve by enhancing the lives of veterans in all aspects of life. Participating in a veterans stand down event is truly a life-changing experience — people from all walks of life come together to provide help for veterans in need. Sue Ruda, Florida American Legion Auxiliary Unit 107 member, served the Auxiliary's mission by volunteering at a stand down in a neighboring town.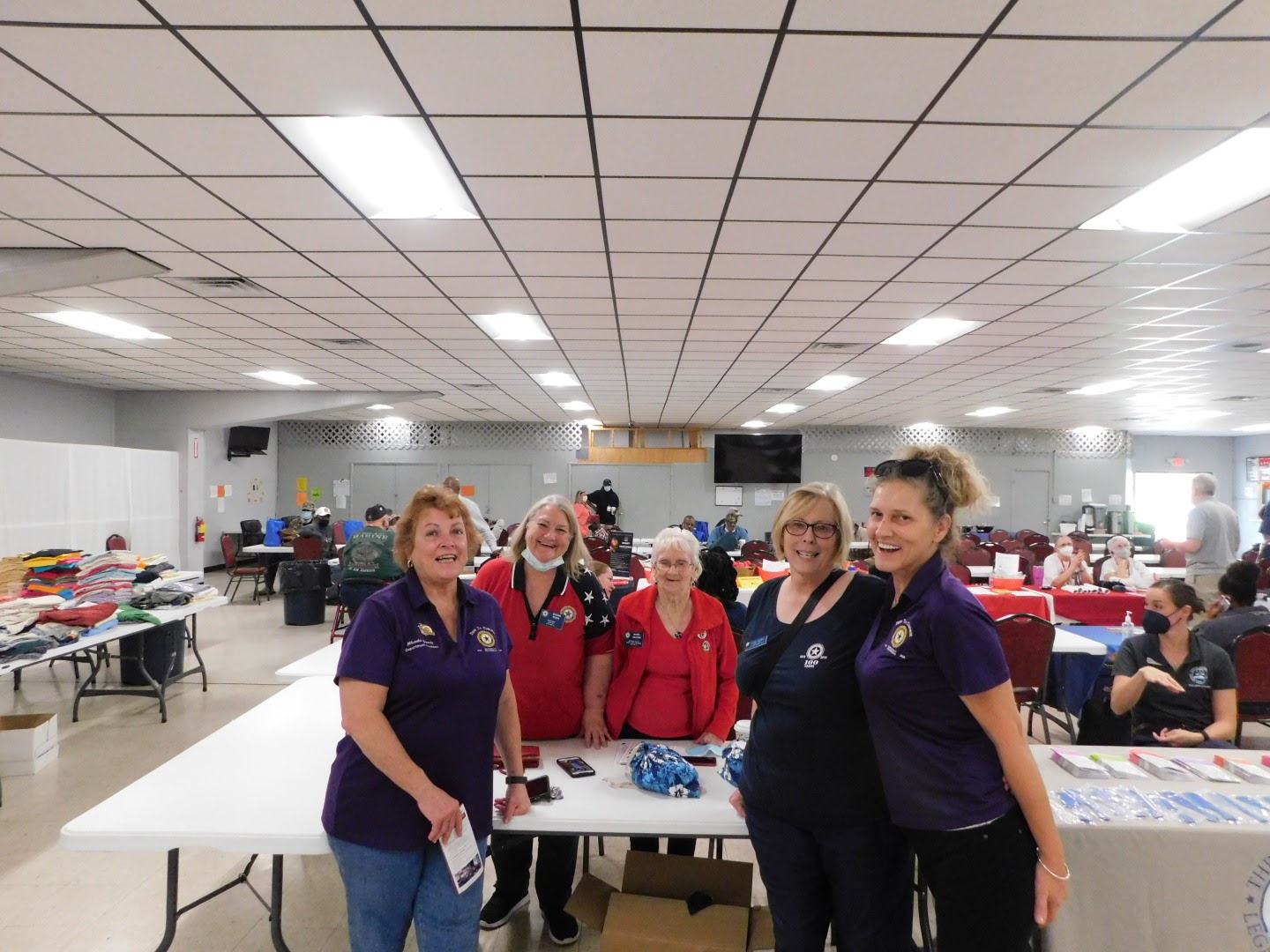 COMBINING FORCES (from left): Florida ALA Department President Wanda Brandt, members Sue Ruda, Mabel Graham, and Hilde Schmidt from Unit 107, and Dianne Cooper from Unit 57, got together to hand out blessing bags to homeless women veterans at a local stand down event.
"We raise money for veterans, and we do other activities, but this was the first time I was able to actually be with the homeless veterans and see where these mission-focused projects end up, and it was so nice," said Ruda.
According to the U.S. Department of Veterans Affairs, on any given night, over 131,000 homeless veterans are on the street. The philosophy of a stand down is to give homeless veterans a hand up, not a handout. Stand downs are organized by self-appointed community coalitions that take on the task of holding the event. Any group can decide to hold a stand down.
"It was such an awesome experience to just talk to the veterans, we had the chance to come together as a Legion Family and as a community," Ruda said about volunteering at her first stand down.
A traditional stand down lasts three days, providing shelter, clothing, health screenings, VA benefits counseling, job counseling, and referral services, and they may provide services such as haircuts, vision and dental care, and legal services.
"The stand down was a great way to let these veterans know the community does care about them and that there are services out there to help them," said Ruda. "We are here for them, no matter what."
Before attending her first stand down event for homeless veterans in Lake City, Ruda and other members of Florida Unit 107 had been donating hygiene bags to local schools for girls who are transitioning into women. They had leftover supplies and decided to make bags for homeless women veterans in the community. The blessing bags included feminine hygiene products, toothbrushes, toothpaste, personal wipes, deodorant, hair products, and other refreshing items.
"We were also able to run into other vendors and other organizations that work with the same element of homeless veterans, and we passed on some of our bags to them — which was nice too because they are even more hands-on with homeless veterans," said Ruda.
The event was held at a local post home, and all veteran-focused organizations were welcomed to help support the cause. Ruda and fellow Auxiliary members, along with Legionnaires and Sons, joined forces to help veterans in need, as a Family.
"I didn't realize while I was volunteering that I would get so much out of being over there at that stand down for just one day," said Ruda. "I was humbled that I was able to do that. It was such a blessing."
Eligible for Auxiliary membership through her late husband, Vietnam Marine Corps veteran Frank Ruda, she continues serving the Auxiliary's mission with him in mind. While she was at the stand down event, Ruda was flooded with precious memories of him.
"I keep his memory alive by doing events like this," said Ruda. "I talked more about my husband at the event than I had in a long, long time. It was nice to be able to be with everybody and talk about how he was a Marine and in Vietnam — the stand down brought out a lot of good memories for me."