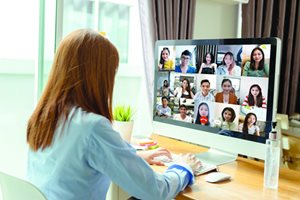 Zoom, Teams, GoToMeeting – platforms that you may not have been familiar with in 2019 are now common ways for many of us to communicate. In the beginning of the global pandemic, these services were a quick fix for us to communicate while social distancing. But it appears virtual meetings and these platforms — and others — are here to stay.

Many of you have participated in these meetings for an American Legion Auxiliary event, your work, or to connect with family and friends. As a beginner, this technology can be intimidating, and you may feel strange talking to your computer. But there are things you can do to make yourself more comfortable and present your best self.

Preparing for a videoconference

The first step is to plan how and where you are going to participate.
Find a quiet room. For some of you, we know this can be difficult with kitchens that have been turned into offices and children home from school. But if you can, try to be in a quiet space with little or no distractions.
Avoid having a window in your background. The light from the window can turn you into a silhouette, making it hard for everyone to see your face.
Have good lighting. If you can have a window facing you, natural light often works well. If not, a lamp behind your computer can help with lighting. If you plan to do a lot of videoconferencing, consider a ring light, which casts light on your face to reduce shadows.
What's behind you? Take a look around. What can others see in your background? Is there anything you don't want others to see? The last thing you want to happen is for people to see something embarrassing in your background.
If you are using a phone instead of a laptop or computer, do you have a tripod or something to lean your phone against? If it's a long meeting, your arms will get tired holding your phone.
Set the scene: Apperance and background
After your area is setup, think about how you will appear to others.
Dress as if you are attending an-person meeting … at least from the top up. Getting dressed can put you in the right state of mind.
Position yourself in front of your device. Sit so you are in the center of the screen. Try to be at about eye level with the camera. If your laptop or phone is too low, you may have an unflattering shot. If your device is too low, try propping it up higher.
Be a good participant
There are several things you can do make a good impression in a virtual meeting. Keep these etiquette tips in mind:
Mute yourself. If you are not talking, stay muted. This will reduce background interference. Sounds like breathing, typing, the dogs barking — noises from the outside can often be louder than you may realize.
Use headphones or earbuds to help you hear more clearly and reduce echoes. If you can't use headphones or earbuds, turn your speakers down to avoid feedback when you are unmuted.
Remember – you're on camera and you don't know when someone is watching you. Try to avoid yawning or making facial expressions you don't want others to see.
Avoid checking emails or texts. Stay present, and give the meeting host your full attention. Emails and texts can be distracting and cause you to miss out on important information.
Turn your camera off if you have to get up. We recommend you not leaving your seat during a meeting, but if you need to leave your computer for some reason, turn your camera off so your absence isn't distracting to others.
Let others in your home know you will be on a videoconference so they don't accidentally appear in your background.
Have water and tissues nearby. You never know when you may need them.
And lastly, relax and enjoy connecting with others who you may not be able to see in person
This article was originally published in the February 2021
Auxiliary
magazine.