An ALA California Girls State 2020 alumna made history at Dana Hills High School in Dana Point, Calif. Earlier this year, Leah West became the first female in the school's history to score a point for the Dana Hills Dolphins.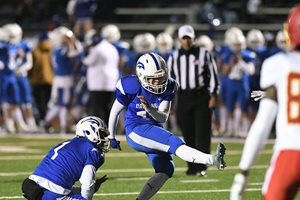 This is not only an accomplishment because she is a female — West hadn't played football until her junior year.

"I have always had an affinity for sports, but I never seriously considered playing football because I didn't know girls were allowed to play on the boy's high school team. However, after attending a football game my junior year, I didn't care if I would be the only female on the team," she said. "I had a passion for the game and I had played soccer all my life, so I felt confident in my ability to be an asset for the team. Suddenly, it didn't matter if I was a girl, because I belonged on that field."

Despite the abbreviated virtual ALA California Girls State, West said attending the event was a valuable experience that gave her the confidence to succeed on the football field.

"My ALA Girls State experience instilled in me the importance of boldness," she said. "When you want to positively change the world, you have to step out of your comfort zone. I remembered this throughout my football season. I knew all eyes were on me because I was a woman in a traditionally male-dominated sport, and at times that pressure felt overwhelming. However, the support from my team, coaching staff, family, and friends, as well as the boldness instilled in me by ALA Girls State, enabled me to persevere and make history as the first female from my high school to score a point in a varsity football game."

Leaving a legacy is important to West. She wants to leave a positive impact on society whether it's in her hometown, at her school, while attending college, or in her future career. ALA Girls State allowed her to meet other ambitious and selfless girls from across California who are determined to make a difference in their communities. West describes their passion and self-efficacy as contagious, empowering her to civically engage with her community.

West encourages other girls to attend ALA Girls State.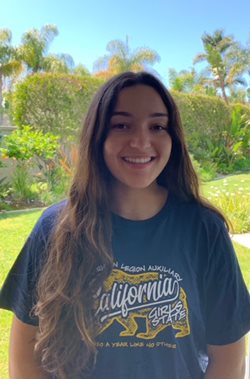 "Through this program, you connect with accomplished women who will inspire to achieve your aspirations," she said. "Additionally, the girls I met through ALA Girls State were so welcoming and kind. Our city — the City of Bass — even has a group chat so that we can keep in touch."

Even though the program was online, West said she knew she belonged there. She also learned so much about inspirational and influential women of the past and present. It was proof that hard work and passion can enact positive change.

"The incredible alumnae who spoke imparted onto us the importance of perseverance to enact positive change in our communities," West said. "Listening to their stories of success in a traditionally male-dominated sphere empowered me to do the same in my community."

West plans to attend Harvey Mudd College to study computer science and mathematics with a minor in art history.

Are you a past participant of ALA Girls State? Let us know what you are doing now and how the program impacted your life. Contact us at ALAMagazine@ALAforVeterans.org.