American Legion Auxiliary members and Legion Family members of Post 211 in Avon Lake, Ohio, created their very own poppy field outside the post home to honor fallen heroes during the month of May.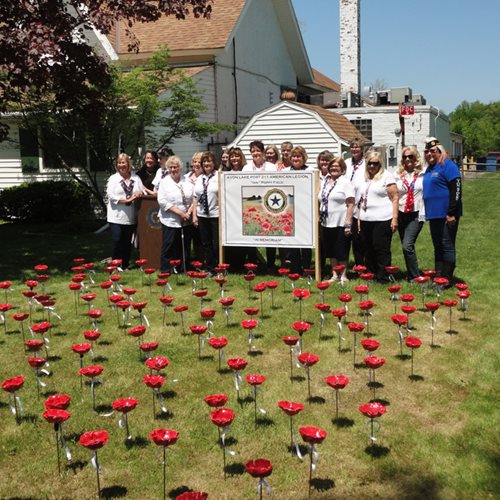 The poppy project was suggested by our post commander, Mike Schrull, at our April Auxiliary meeting, after he was in Alabama visiting a relative and saw ceramic poppies," said ALA Unit 211 member Pam Harwood. "He was so inspired that he brought the idea back to our Auxiliary — we all agreed that it was an exciting, new project, and we were enthused to get started."

After posting on social media to see if anyone would be interested in making ceramic poppies for the poppy field, a local art teacher responded that she would love for her students to do this project. Immediately, Avon High School students, Avon High School Art Club members, and National Art Honor Society members began making poppies. The students made around 140 ceramic poppies.

"Our project wouldn't have been possible without the students," said Harwood. "The students knew they were making the poppies for Post 211 and that they were being used to honor deceased veterans."

The original plan for Unit 211 was to receive donations for handmade ceramic poppies made by students for $20 each, then to have a dedication ceremony and place them in a poppy field outside of the Post 211 home until Memorial Day. After Memorial Day, donors were able to pick up their ceramic poppy or Unit 211 shipped them with an additional shipping fee.

"We had a great response from our Legion Family," said Harwood. "All members of our post participated in purchasing poppies by completing an application form."

To purchase a ceramic poppy, Legion Family members needed to fill out an application form that included the amount of the donation, the donor's name, the donor's address, phone number, and email, and who they wanted to memorialize.

The poppy field was named the "Ian Poppy Field" after Unit 211 President Wendy Walker's late husband, Ian. Wrapped around each ceramic poppy was a ribbon with the name of the veteran being honored, along with their branch of military service. The rods that supported the poppies were made and donated by a Gold Star Father who donated a poppy in the field to honor his daughter's memory.

All donors and Legion Family members of Post 211 were invited to attend the dedication ceremony. Art students from Avon High School and the art teacher also attended. The dedication for the Ian Poppy Field began with an overview about what the poppy means, followed by prayer. Walker gave a plaque to the teacher, and Unit 211 gave the students a gift certificate for a pizza party at their school. Harwood spoke about the significance and symbolism of the poppy, followed by the reading of In Flanders Fields. Students, Auxiliary members, Legionnaires, and Legion Riders worked together to place the ceramic poppies in the Ian Poppy Field.

"It was such a successful project that I believe we will do it again next year if we can get more students and schools to help make poppies," said Harwood.