"It is important to me because being part of the American Legion Auxiliary, although I didn't serve, I can still honor veterans and be part of a community …"
American Legion Auxiliary member Kasey Condron has a connection to history that most of us only read about in books. She is the great-granddaughter of one of the USS Indianapolis survivors, Robert Lee "Buddy" Griffith, who served in the U.S. Navy during World War II.
He was part of the crew's last mission — to deliver the parts of the atomic bomb to the U.S. Army Air Force base on the island of Tinian in the Pacific Ocean — completely changing the course of the war and of history. Griffith managed to survive after the ship was torpedoed by a Japanese submarine, but that was just the beginning — he spent five days floating in the ocean along with his surviving shipmates, facing exposure, dehydration, saltwater poisoning, shark attacks, hallucinations, and delirium.
Griffith was one of only 316 survivors out of a crew of 1,196.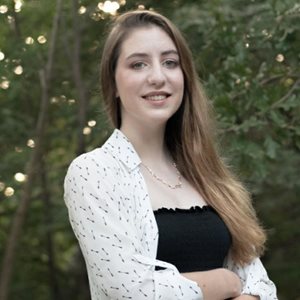 Condron never had the opportunity to meet her great-grandfather before he passed, but his story stuck with her.
She is currently attending the University of North Texas where she is majoring in psychology with a minor in counseling and English.
What does it mean to you to be a member of the American Legion Auxiliary?
It is important to me because being part of the American Legion Auxiliary, although I didn't serve, I can still honor veterans and be part of a community with my grandparents and everyone in the Legion and community — that's who I've grown up around. It's almost like having an extended family, which is very special to have that.
Can you talk about the essay you wrote about your great-grandfather being on the USS Indianapolis?
Without his perseverance, I wouldn't be here today or my mom or my grandfather. It shows you how much strength in World War II you had to have.
An excerpt from the essay reads, "My great-grandfather fought for his life, as well as his country. His service not only gave me the amazing freedoms we have in America, but the opportunity of an amazing life. Without his bravery and resilience, I would not be alive today. I am so grateful for my life and the fact that I get to live it in America, the land of opportunity."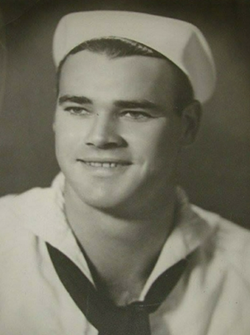 Do you remember how you felt when you first heard the story of your great-grandfather and the USS Indianapolis?
I remember hearing it as a kid and how difficult it must have been to experience that and the fear of not knowing if you are going to get help. When they were in the water, no one knew if help was coming. It's just a miracle when the guy flew over and saw them in the water. I remember seeing the movie (
USS Indianapolis
) with my family. It was a very special thing for me and my father and grandparents — to see that with them, to have that family connection.
Your great-grandfather was the one who welded the metal crate holding the atomic bomb parts and detonator to the deck of the ship. What does it mean to you that he played such a pivotal role in our nation's history?
Just thinking how big of a part of history he played and how it's an amazing story shows how when we think about WWII or in history when we are taught, we learn the facts and things that happened. It's just very different to hear about with the atomic bomb — you'd think it's only the scientists [who] had worked on it or dealt with it — but it's also important to look at the personable side of history and look at it through a personal lens to have that connection and that view of history. I think learning about and hearing about it from a personal account makes it feel more real to people.
AMERICAN LEGION AUXILIARY UNIT:
Unit 231 in Pottsboro, Texas
YEARS IN THE ALA:
20