The American Legion Auxiliary Foundation works to serve the mission of the ALA by raising funds, increasing brand awareness, and most importantly, giving financial support to American Legion Auxiliary units, departments, and national programs.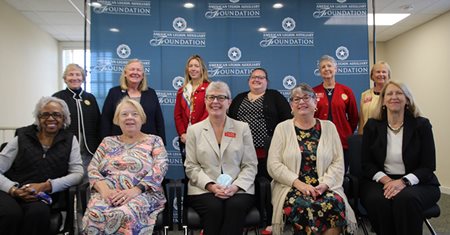 As a member of the ALA Foundation Board of Directors, you will have the opportunity to be part of a dedicated team that is determined to grow and uplift veterans, military, and their families for future generations.

"This amazing group is welcoming of new members, works together as a team, stays on task, and is remarkably supportive of each other. It's a privilege to work with a group so intent on the achievement of the ALA Foundation's goals," said Cathe MacInnes, ALA Foundation Board of Directors president.

In addition, you will receive fundraising and leadership growth opportunities that can help you in your personal and professional lives. This growth will be seen through board trainings, acting as an ambassador for the ALA Foundation in your community, and working with donors who support our mission. You will be challenged, but also be able to learn from experienced professionals and from your talented fellow board members.

The ALA Foundation is currently seeking passionate individuals who are eager to use their fundraising skills, business experience, and passion for veterans to increase the resources available to our nation's heroes. To apply, please visit www.ALAFoundation.org/Board-Application. Applications are due April 1, so don't delay!