A 12-year North Carolina member, a Paid Up for Life Illinois member, a Past National President, a Pennsylvania unit president, and a mother and daughter are some of the ordinary people doing extraordinary things for veterans, military, and their families. These individuals, 30 in total, make up the Legacy Society.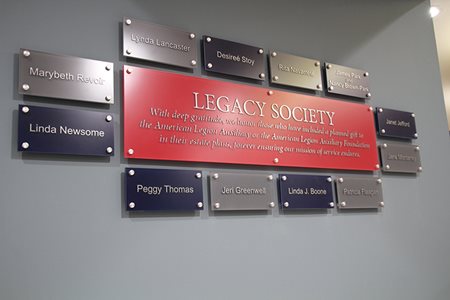 The Legacy Society is a group of dedicated individuals, members and nonmembers alike, who have given or committed a planned gift to the American Legion Auxiliary or American Legion Auxiliary Foundation in their estate plan.

Sounds complicated, right? It's not! So, let's break it down.

A planned gift is when someone includes a donation in their estate plans. This can look different for everyone based on individual financial plans and goals, but the most common way is in a will or trust. This can be done by designating either a specific amount, a percentage amount, or a remainder amount.

Another common way to make a planned gift is by designating an organization like the ALA or ALA Foundation as a beneficiary in your retirement plan or life insurance policy. This is easily accomplished by updating your beneficiary designation form with your plan administrator.

Each gift, regardless of size, makes a huge impact on our mission. Barbara K. Smith's gift allowed five students to attend college with an ALA scholarship. Helen Colby Small's gift was used to establish the Auxiliary Emergency Fund. Rachel Grout gifted $5,000 to be used as a match for the ALA Foundation's #GivingTuesday campaign, helping make even more of an impact on veterans, military, and their families.

Through planned giving, donors are able to meet their current and future financial needs while providing the Auxiliary with financial support later. You leave a lasting impact on our mission by providing hope in times of need, support for education and youth leadership programs, grants for veterans' art therapy, and much more.

Jane Montaney, Legacy Society member, sums it up best: "Don't be afraid of it. Even if all you can give is 1 percent, it's something. It's not about the amount of money you can give — it's about how much can be contributed by everybody participating."

If you have already committed a planned gift and would like to join the Legacy Society, please complete this Bequest Intent Form, or if you would like to discuss your planned giving options, please reach out to ALA National Headquarters' Development Division at development@ALAforVeterans.org.