How did you feel when you found out you would be the NVCAF director?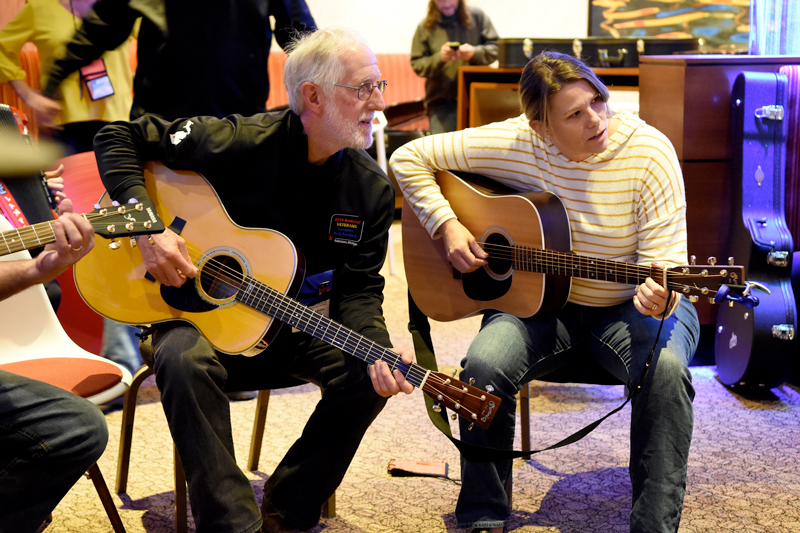 Amy Kimbler participates in a jam session at the 2019 National Veterans Creative Arts Festival in Kalamazoo, Mich.
I felt honored. For 19 years I have been working on this program. It's been a gift to my life to watch the program grow and for veterans to share their experiences and their creative talents with me and with others. To be a part of providing these opportunities for veterans is humbling and to know that I can continue to serve veterans is this way, well, it's where I feel called to be at this moment in my life.
Can you share your background? i.e. education and how you got interested in working with our nation's veterans.
I am humbled and proud of the many members of my family who have served our country. My grandparents, my father, my uncles and cousins. One of my grandfathers was a cook in the Army. He played the accordion and would entertain troops in WWII over in Germany. His accordion was gifted to me when he passed away years ago and I have this treasured item on my piano at home. Little did I know back then that his musicianship and my relatives' spirit to serve our country would have such an impact on me and where I am today.
I have a bachelor's degree in music therapy from the University of Minnesota (Go Gophers)! In April 2004, I began serving veterans by working at the St. Cloud VA Medical Center as a creative arts therapist. The NVCAF was introduced to me early on and I knew this was a program that I believed in and wanted to be a part of.
What do you like about the Festival?
Some of the best moments of the Festival week take place outside of the scheduled and structured events. They occur at meal times, in the hospitality room, backstage, on the bus rides, in the costume room, during registration, and in the hotel lobby. It's the side conversations, the laughter and smiles, the encouraging words, the photos taken, and stories shared. The Festival week provides an opportunity for growth and healing and we hope the veterans are inspired after learning a new skill, expanding and developing an already learned skill, and go back home with a sense of accomplishment and pride for what they have achieved.
What is the planning like for NVCAF?
I don't think people realize how much goes into it and how soon you get started on the next year's Festival. No two months are the same. No two days are the same! It's a multi-year process. Site visits are made, venues are chosen, and host site teams are organized well in advance. As soon as one Festival year ends, the competition process begins for the next Festival year. The handbooks with rules and categories are sent out as soon as possible and VA facilities across the country start preparing for their local competitions. Many facilities hold their local competitions in January and February. The national judging occurs in late spring and the results are announced in early summer. From summer to fall, the national Festival planning moves fast with details to finalize and arrangements to be made. The Festival is fortunate to have the ALA's support and I am lucky to work with such a committed group of staff at VA facilities throughout the country.
Are there ways this year's event (2019 Festival) was different than last year? Please explain.
With the help of the Battle Creek VA Medical Center staff, the 2019 NVCAF in Kalamazoo, Mich. saw many new things:
New NVCAF app
New workshop options for veterans
New education sessions for staff
New creative writer seminar sessions
New format for recognizing creative writers
New event information booklet
New opportunities for companions
New e-ticketing option for the stage show performance
New registration process and schedule on arrival days
New format for sponsor recognition
New format and video for closing ceremony/event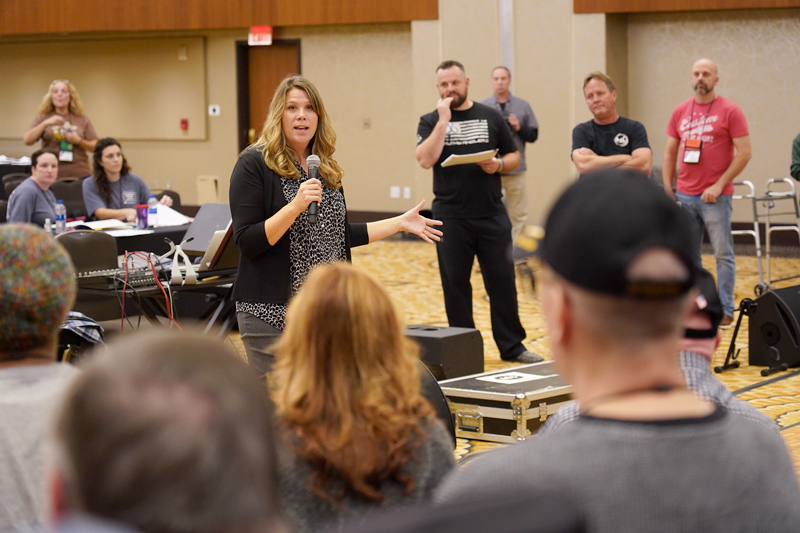 Kimbler talks to the NVCAF performers in between rehearsals at the event.
Talk about the number of first-time national Festival participants and female participants. Why do these statistics matter?
The NVCAF begins at the local level with competitions taking place in VA facilities across the country. These competitions are open to all veterans. All of them. If you are a veteran enrolled to receive care in the VA health care system, you can enter the competition. Local first place entries move to the national level of judging where they are judged with all other entries from across the country in their same category. The judges do not know who submitted the piece or where they are from. The artwork is judged solely on the merits of the work itself.
Tracking the number of first-time participants at the local level as well as the first time winners at the national level helps us to look at growth and trends. We also have seen a rise in the number of women veterans entering the competition in recent years and winning at the national level. Understanding these statistics and looking at how we can continue to grow and meet veteran needs is how we utilize these numbers and why they are important.
Can you talk about the overall importance of this event for veterans?
The Festival week provides opportunities to connect, to be engaged, to bond, build, and learn. Veterans are not only recognized for their creative accomplishments but are encouraged to try new things and meet new people. Veterans tell us that their attendance at the Festival has empowered them, motivated them, been a healing force for them, and given them something to look forward to. By attending the event, they have gone back to their community and actively sought out new experiences and opportunities where they live.
The Auxiliary has been a co-presenter since 2014. How important is the ALA's continued help and support for this event?
The American Legion Auxiliary's compassion and support of veterans, their caregivers, and the NVCAF is evident at VA facilities throughout the country as well as during the Festival week. VA staff tell me that the ALA units support their local competitions with volunteers and connections in the community as well as monetary support for art display items and refreshments. The ALA's involvement at the local level is crucial to the success of many local competitions and we are grateful for this support. At the Festival, the ALA's commitment and hands on interactions help to enhance the experiences for the veterans and their caregivers. Most days, the ALA volunteers are the first faces the veterans see before breakfast and the last faces they see before going to bed after visiting the hospitality room. These interactions, these moments help to make the event memorable for all involved. I sincerely thank the ALA for their commitment and support of the NVCAF and their dedication to serving veterans.
What do you hope veterans took away from NVCAF?
Three things:
1) That veterans leave the event having learned or experienced at least one new thing.
2) That they leave the event feeling revitalized, energized, motivated, and inspired.
3) That they are happy to have attended and excited to continue creating, performing, and writing.
Can you share a fun fact about yourself?
I come from the land of 10,000 lakes, hot dish, the Gophers, Duck Duck Grey Duck, and Prince. One of my summer college jobs was as a body character at an amusement park. My costume was Mama Bear from the Berenstain Bear books. We walked around the park and had a stage where we acted out The Messy Room book every day. Ten shows a day. The exact same show. That was a hot job in Minnesota! I have a strong appreciation now for the more famous amusement park staff who do those jobs in the warmer states year-round!
Anything you want to say about your personal life? i.e. family, hobbies, travel, etc.
I am married with two amazing kids, a sophomore and a senior in high school. They keep us busy with softball, baseball, tennis, and basketball.