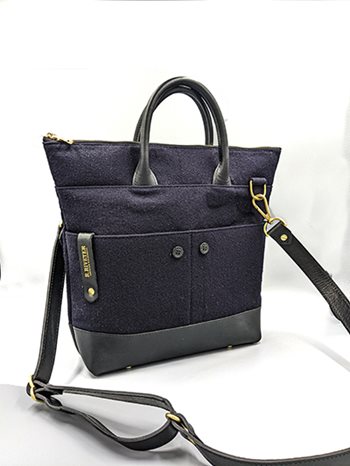 Once again, a unique, one-of-a-kind handbag created from a military uniform is being put together by military spouses with R.Riveter.

The bag will be auctioned off live Aug. 17 with 100% of the proceeds donated to the Auxiliary through its partnership with R.Riveter to continue the ALA's mission of serving veterans, military, and their families. The auction will be hosted on Instagram, so be sure to follow @rriveterbags and @ALAforVeterans.

In January and March, R.Riveter hosted auctions of two one-of-a-kind handbags from their heirloom collection and donated 100% of proceeds to the American Legion Auxiliary. The collection is a program that transforms a loved one's military uniform, blanket, duffel bag, or other materials into a personalized handbag with memories.

The previous auctions raised $1,910 for the ALA. Past winners Cheryl Hilvert and Laura Santino, each in their own words, shared why they participated in the auctions and how it benefits the ALA.

Cheryl Hilvert
Recently, I had the opportunity to participate in the auction of a one-of-a-kind handbag, produced by R.Riveter and designed to benefit the American Legion Auxiliary. When I saw the bag — constructed by R.Riveter from a U.S. Air Force-issued uniform coat utilized by a veteran during his military service — I was immediately intrigued!

I love the style and quality of the R.Riveter bags and enjoy and support their corporate mission of providing employment opportunities for military spouses and allowing these partners to rally around a common mission while their family members provide service to our U.S. military. I have many of their bags and proudly utilize them and share their mission with those people whom I interact.

The auction also supported the work of the American Legion Auxiliary, a community of volunteers serving veterans, military, and their families. The ALA has been in existence since 1919 and its members have worked hard for over 100 years to fulfil their mission of supporting all these individuals who have given so much in service to our great nation.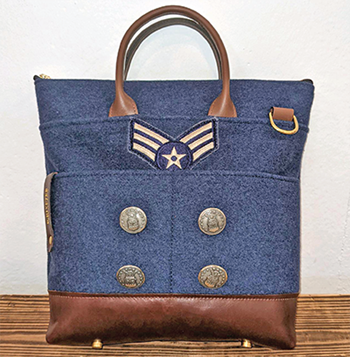 While I loved the look of the bag and the missions of both R.Riveter and the American Legion Auxiliary, I also saw this bag as an opportunity to honor my father's military service as a young B-17 bomber pilot in World War II. My dad was a hero to me in so many ways, but his brave service as a 20-year-old U.S. aviator, his capture and imprisonment as an American prisoner of war, and his never-ending love for our country have been inspirations to me for my entire life. I could never do what my dad did for his country, but I have dedicated my life to honoring him, the other members of the Greatest Generation, and all veterans and active military for their service to our great nation.

R.Riveter has a company saying that binds the era of WWII with today in a few short words. It is a shorthand expression, a rally cry to go along with the iconic image of the great "Rosie the Riveters." It is, "Of many, one." It is important for all of us to honor those who have served and to remember that we are always stronger together than we are apart. And remember — just like the Rosies — that "We can do it!"

I have always believed in these principles and that we are truly the luckiest people in the world to live in this country. I carry my bag with pride and take every opportunity to share the great stories behind it. Thanks to R.Riveter and the American Legion Auxiliary for the opportunity to do so!

Laura Santino
My hero, my father, Richard Wm Anderson, taught me honor and patriotism since I was born. My parents lived in North Carolina while he was serving in the United States Marine Corps at Marine Corps Air Station Cherry Point, which is where I was born. The family returned home and moved to Bristol, Conn., in 1970. Dad joined Seicheprey Post 2 Bristol American Legion after serving with the Marines, USMC Reserves, and the Connecticut Army National Guard. He was a card-carrying member for almost 10 years before his work schedule allowed him to attend monthly meetings and eventually become an officer.

He was elected junior vice commander (1988-1989) and was involved with the monthly breakfast committee. During one breakfast, he called home and asked the family to help out a few hours, and before the breakfast was finished, my mother Christine, sister Julie, and I completed membership applications and have continued our membership for over 30 years (in fact, all Paid Up For Life Auxiliary members). Since that breakfast, our family became a Legion Family, starting as worker bees and continuing through elections as officers.

Being a "Marine brat" has been something special to me. The pride I have in my heart thinking of Dad's choice to serve this country is something that is hard to put into words. I show this pride by the hours I offer to The American Legion Family by volunteering, donating, helping in ways I can for other military, veterans, and their family members.

I learned the organization from the ground up, becoming involved where I could, working through the ranks of unit, district, and department, and being elected Department of Connecticut president (2017-2018). I have always wanted to make my father proud and honor him through the traditions he taught me. I thought being active within the American Legion Auxiliary would allow me that privilege, and for over 30 years of membership, I feel I have made a difference within the people I have met and mentored, and the programs I have volunteered with and donated to. Not only have I given to our organization, but being involved has given back to me with heartfelt feelings, working on my introvert personality, and confronting my public speaking fears.

I was a board member of the American Legion Auxiliary Foundation for a short period of time. During that term, I was educated on a variety of fundraising techniques, and trained to confront my public speaking fears by working through it.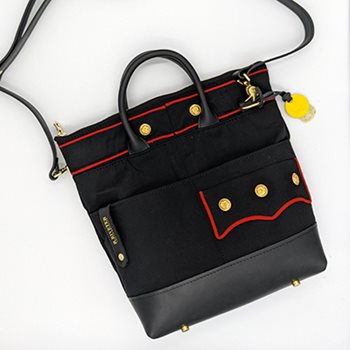 When I first was introduced to R.Riveter during a National Convention, I fell in love with the story behind the business, their mission statement, and the products they produce. Seeing the first auction R.Riveter did for the ALA Foundation, I was amazed at the final product. I had hoped they would consider doing additional products from former uniforms and I was so excited when I saw the advertising of the Marine bag. My dad was proud to be a Marine, but he never owned his own dress uniform. I remember hearing stories that when he had his formal photos taken, he rented the uniform. This story stuck in my head when I saw R.Riveter's marketing for the next auction. I wanted to honor my father by owning a uniform, even if just a piece, to remember his years in the service, at the same time giving back to the ALA Foundation.

I have donated monthly to the ALA Foundation for years. Planning for this auction, I budgeted the amount I donate in a year against what I could pledge to win this Marine tote. The day of the actual auction, I was anxious and wanted to be careful not to outbid my budget. I actually thought I was outbid because there were bids listed after the closing bid, but I was jumping for joy when I was informed I was the winner.

The box arrived, and I was a little kid on Christmas morning. My husband, Anthony, videotaped me opening the box, and that video was shared to R.Riveter and my social media. This purse has brought me much joy and became a great conversation piece. I have used it to bring up the R.Riveter story, as well as promoting the American Legion Auxiliary and the ALA Foundation. I can't recall the number of people who have offered to purchase this purse.

I would love to learn more about the Marine whose uniform has brought this item into my life, but until I do, I will show it off everywhere I can. Thank you, R.Riveter and ALA Foundation, for bringing such a beautiful token into my life.

R.Riveter is co-founded by military spouses Cameron Cruse and Lisa Bradley. The company is based in North Carolina and employs military spouses who help make the handcrafted handbags the company sells — multiple military spouses can work on one bag. The work can be done remotely, helping military spouses find a job when they relocate frequently. To learn more, visit www.rriveter.com.

By Sara Fowler, Staff Writer