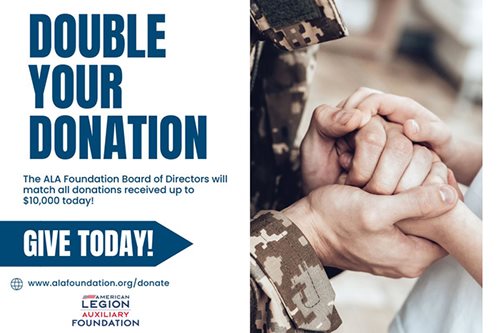 Today is GivingTuesday! Today, the world comes together to support causes that are dear to them.
Someone is packing military care packages, another is knitting a quilt for a veteran, and another person
made a financial contribution to their most beloved veteran service organization. Today, we ask that you
make the ALA Foundation a philanthropic priority. The ALA Foundation Board of Directors will match
donations received today up to $10,000. Your gift to the ALA Foundation will be used to ensure
the mission of the American Legion Auxiliary endures so the work to better the lives of military families
and our nation's heroes will continue.

The first 50 donors to give $50 will receive a pack of six historical American Legion Auxiliary cards. The images on the cards include:
Opening session at the 1937 American Legion Auxiliary National Convention in New York
ALA member, Marie Wilson, pinning a poppy on a U.S. Navy sailor in the 1950s
Attendees of the 1925 Women's Conference on National Defense as Peace Insurance visit the Tomb of the Unknown Soldier at Arlington National Cemetery
An ALA member assists a veteran with making poppies in Oklahoma in 1970
ALA members of Morgan McDermott Unit 7 in Tucson, Ariz. work on the silk flag they made for the Savings Bond Campaign in the 1940s. During the exhibition, citizens signed a scroll reaffirming their faith in the principles of America. The flag later hung at the State Capitol
ALA Girls Nation senators arrive at Union Station in Washington, D.C. in the 1960s
The ALA historical cards are just a small token of our enormous appreciation for you. More importantly, we hope they remind you of the vital work that has been done by past ALA members and the work that you continue to do every day. Thank you for your support and service.
Donate today!