Ashley Rosales is a U.S. Army veteran, married to a current servicemember…and happens to have 682,000 followers on Instagram. She is a content creator, with makeup videos and other lifestyle material.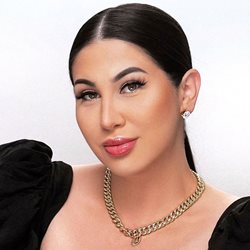 Can you tell us a little about yourself?
I am 34 years old and from Cincinnati, Ohio. I currently live in El Paso, Texas, where my husband is stationed at Fort Bliss. I was in the Army as a mechanic for over three years before being medically discharged due to an injury to my foot. I've been married for almost nine years and have two beautiful children. I'm a beauty influencer and have been for six years.

How would you describe the content you share on Instagram?
I share mainly beauty content. My goal is to inspire others to not be afraid to try something new and to know that everyone is unique.

You have over 680,000 followers on Instagram. How did you get this far in terms of your huge following?
I've been an influencer for over six years now. I started posting makeup videos back in 2015 and was consistent in bringing lots of content and not just a lot, but the best content I could create.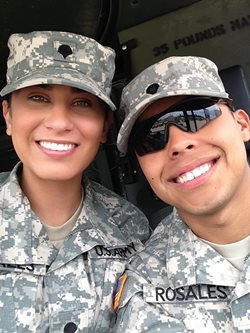 You are also an Army veteran, and we thank you for your service! Is there anything you'd like to share about your time in the military?
Thank you. Being a veteran is one of the most honorable things I could be. The Army changed me for the better. I learned so much about self-discipline, what it was like to really be on the same team as everyone around you, and knowing the person standing next to you is your brother/sister for life. I was a 91B (wheeled vehicle mechanic) and wasn't afraid to get down and dirty turning wrenches. However, I was always into makeup. It was and still is a way for me to express myself. I've always been "girly," but being a mechanic in the military was something I really enjoyed doing. I planned on making the Army a career, doing the full 20 years. So, when I was injured, then medically discharged, it was very hard for me to accept. I loved the military; it was my duty. It almost felt like my calling at that time in my life. It shaped me and made me the woman I am today.

What is it like being a military spouse and mom?
Honestly, it's a lot. Working full time, being a mom, and a military spouse, I definitely have my plate full. But I wouldn't have it any other way. My husband re-enlisted twice and is now a staff sergeant. So, he does have his plate full too, but we make a great team! We both served together when we were stationed in Fort Riley, which is how we met. So, I think having served alongside my husband, I feel like I have more of an understanding of the sacrifices we make. It doesn't make it any easier, but I do understand it more.

Was there anything you learned during your time in the service to apply to your much-different-from-the-military career today?
Where do I even begin? I feel like the military shaped me into the strong woman I am. It taught me so much — so many things I didn't even know I was capable of. Mentally, physically, everything. I grew up so fast once I joined, and I learned what it meant to work as a team with my battle buddies next to me. I learned discipline, how to shoot a rifle, how to push my body physically so far I didn't even know I could. It was the greatest three years of my life and I wish every day I would go back and relive those few years. It was the most honorable thing I've ever done. I'm sure you can see how passionate I am about it!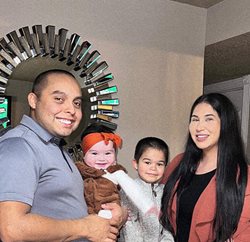 We have many military spouses who are members of the American Legion Auxiliary. Being a military spouse can be more difficult on a career with moving multiple times and deployments. You have grown quite a successful career on your own! Any tips you can share?
Thank you! Yes, absolutely and I know how difficult moving your entire life can be. My advice is to do what you love. And if you love it enough, don't give up.

What advice do you have for military spouses who are just starting out?
Talk to your soldier. Listen to them and be as understanding as you can. It's not an easy life for any military family. Make friends with other military spouses. It's nice to have someone to talk to who's going through the same thing you are.