In early 2017, artists Wendy MacNaughton and Julia Rothman launched a website, Women Who Draw, in an effort to increase the visibility of female illustrators. On the site, emphasis is focused on female illustrators of color, LBTQ+, and other minority groups of female illustrators. The first day, they received 1,200 requests to be part of the website.

Women Who Draw is an open directory of female* professional illustrators, artists, and cartoonists. When looking for an artist, there are a handful of filters that can be used for searching more specifically, including race/ethnicity, location, orientation, and religion.

Since its launch, Women Who Draw has become the place to go to discover new talented illustrators from all over the world. It features over 2,700 (and counting) professional artists, tools to help users curate their own stables of artists, interviews with industry pros, monthly member collaborations, and a resources page for artists and the people who hire them.

Social media channels and live events enable members to connect with each other. Women Who Draw members have been discovered and hired by publications like The New York Times, TED, The Globe, and Bust Magazine, among others. More than just a website, Women Who Draw has become a community of support and professional and political action.

To view the directory of female artists, visit www.womenwhodraw.com.

*Women Who Draw is trans-inclusive and includes women, trans, and gender non-conforming illustrators.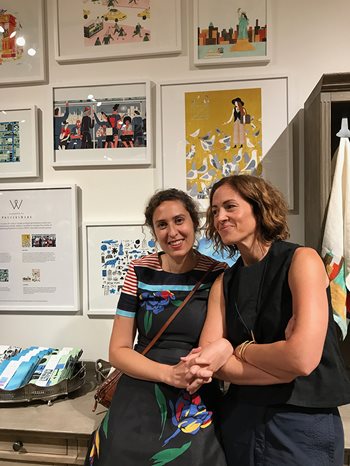 Can you describe the kind of artwork you like to create?
Wendy: I am an illustrator, graphic journalist, and educator. I draw stories using drawings done mostly from life, combined with the words of the people I meet. I also illustrate books, magazines, and created and host a drawing show for kids.
Julia: I am an illustrator, pattern designer, and author. My illustrated column, Scratch, is featured biweekly in the Sunday New York Times. I've authored, coauthored, and illustrated 12 books.

Tell us how the idea for Women Who Draw came about.
Julia: We were inspired to create Women Who Draw after noticing certain publications were dominated by male artists. In one magazine that often featured illustrated covers, we noticed in the past 55 editions, only four of those covers were illustrated by women, despite the arts field within education often being dominated by women. Instead of talking about the problem, we set out to solve it with Women Who Draw.

What is the importance to you of creating this directory of women artists?
Wendy: To increase visibility and get jobs for illustrators and artists who are traditionally marginalized. And it works. When people can find new talent, they hire new talent. We just made it easier for people to look beyond their bias and broaden their network. So many women have gotten jobs from this — we hear from illustrators all the time the impact Women Who Draw has had on their careers, or how often an art director uses WWD to find new talent.

The American Legion Auxiliary has many members who are artists. Do you have any advice for them on getting published and/or being part of Women Who Draw?
Wendy: We have so many submissions, we had to press pause on accepting new members, but we hope to open back up in the future. If people are interested in getting their work out there, share it online like on places like Instagram, send it as postcards, participate in shows — do everything you can to get it out there. Collaborate with other artists and writers and get your stuff out there together — double the eyeballs. And don't stop. A lot of success is grit. Just keep going.