ALA members' major milestones
It's a sense of belonging within a tight-knit community, and a feeling that everyone there is family with a shared goal: helping our nation's veterans, troops, and their loved ones. That's the meaning of Patricia Casciano's American Legion Auxiliary membership.
"You know, it makes you feel better if you do something for somebody else," said Casciano, a member of ALA Unit 314 in Lehighton, Pa. Casciano, who has been an Auxiliary member for 73 years, reached a personal milestone recently. She turned 100 years old Aug. 19, and is an Honorary Life Member at Unit 314.
Even when the ALA unit she originally joined, Unit 406 in Fountain Hill, Pa., closed about 10 years ago, Casciano insisted on maintaining her Auxiliary membership. It was that important to her. Casciano joined Unit 314, which is where her daughter, Celeste Silvonek, belongs.
"I enjoyed participating in all of the various activities that the Auxiliary put together, especially the ones around the holidays. The events geared for the children were my favorite, with Christmas, Easter bunny, and things like that," Casciano said.
In one way or another, military life and The American Legion Family have played major roles within the Casciano Family. Patricia's late husband Dennis was a Legionnaire at Post 406 in Fountain Hill for many years. He was a U.S. Army World War II veteran who also served in the Army National Guard in Pennsylvania. The couple's son Anthony, a U.S. Navy Vietnam War veteran, was a Legionnaire for many years.
Casciano said she also enjoyed attending American Legion Auxiliary National Conventions and meeting other members of the Legion Family.
"We came up with new ideas and talked about what we were doing in each of our post [homes]. I always learned something new, even at my age," she explained.
Casciano is a graduate of Bethlehem Business College. She worked for 35 years in the offices of Bethlehem Steel Corp.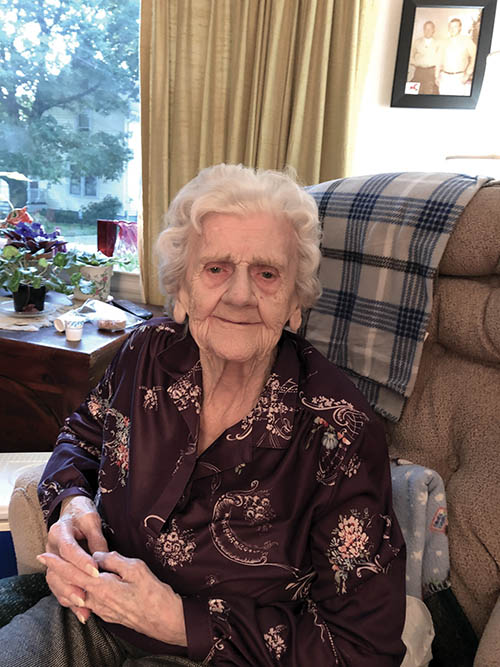 American Legion Auxiliary member Grace Gustafson has had many roles in her life: daughter, sister, wife, and mother. At 105 years old, an age milestone reached Sept. 7, Gustafson has outlived her parents, siblings, husband, and three children. But she stays positive about life, maintaining her sense of humor and determination to continue living in her own home — being as independent as possible.
Gustafson has touched the lives of so many people through the years, and continues to do so.
She keeps in contact with her relatives who live in Sweden, and is embraced with love from her 17 nieces and nephews, six grandchildren, five great-grandchildren, and her fellow ALA members at Unit 189 in Chenango County, N.Y. Eligible under the military service of her late husband Frank Gustafson — a U.S. Navy veteran and American Legion member, Grace joined the ALA in 1987. She's been a member ever since, and is an Honorary Life Member of Unit 189.
"Grace is the sweetest ALA member and a great asset to our unit. As of late, she has not been able to attend Auxiliary meetings and events, and we miss Grace's beautiful smile," said Unit 189 President Sophie Liberatore.
Gustafson is fond of her ALA unit as well.
"I love the people, they have great parties, and I love playing cards," she said.
She definitely knows a lot about great parties. For many years, starting at the age of 16, Gustafson lived with a prominent family in her community of Norwich, N.Y. During the week, she cared for the family's children. Her job also was to help with the cooking and help serve at the high society parties and elegant dinner events. The affairs were like some spectacular scene of a 1930s black-and-white movie featuring a fancy party.
But all those old fancy parties pale in comparison to Gustafson turning 105. Though there could not be a big party for her milestone birthday, mainly out of precaution because of the COVID-19 pandemic, she is celebrated every day by all who know and love her.
This article was originally published in the November 2020 Auxiliary magazine.